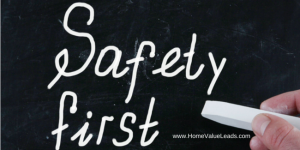 As real estate agents, we often meet new people and show properties to unknown buyers.  That's our pipeline for future sales, right?  Yes — but we must remember to always stay safe.  It begins with being alert to our environment and watching our surroundings.  Nothing can replace a prepared person.  Today's blog offers a handful of ways you can stay safe while continuing to earn money.
To set safety standards as an industry, real estate agents need to change the way we do business with buyers.  We must be vigilant about capturing personal information open house attendees.  And most importantly, we need to screen buyers before showing property to them.
Meet every new buyer prospect at your office FIRST.  This gives you the opportunity to qualify them, educate them, and set expectations.  It's also the best way to develop rapport by finding out their wants and needs.  Prospective buyers should learn about you as their agent, and feel comfortable enough to sign the Buyer Broker Representation Agreement.  Of course at this meeting, they will need to provide you with their identification, and you will make a copy for your files.  Any riff-raff would quickly be eliminated with your thorough screening process.
As you're out in the field showing properties with buyers, or welcoming prospects to an open house, remember to travel with a partner.  There's great safety in pairs.  Besides having a tough no-nonsense partner tag along, what else can you do?
Apps, of course!  Since the recent focus on real estate agents' safety, dozens of useful apps have popped up.  Most are free or affordable, so try out one of these new apps on your smart phone today.  The app types fall into several categories.
Family Can Find You
These apps allow your friends and family to view you, and for you to communicate with them, sending alerts if needed.
Find Friends
Life360
Client Interactive Tracking
Glympse
This app also alerts you of bad weather and other emergency scenarios, and can summon authorities if necessary.
Set Off an Alarm
The following apps allow you to signal an alarm, or the app will do it for you.  The screeching alarm should frighten attackers, and some also have a silent alarm feature.  Many will also contact emergency help by providing them with your GPS location.
LifeLine Response
Guardly Safety
RunSafe
In addition to the panic feature, RunSafe also collects and processes information for a search and rescue.
Call for Help
Speed dial your designated contacts if you feel uncomfortable with a suspicious person around.  You can instantly text and call for help, and it forwards your GPS coordinates to your contacts.  911 can be contacted also.
Real Alert
MyForce
Emergensee
OnGuardHelp
SOS
Real Alert was designed by a Realtor® to help other real estate professionals.  MyForce also boasts an audio upload of your situation in real time.
Confirm You Got There Safely
These handy apps will confirm that you arrived at an appointment safely within the time anticipated; if not, it triggers an emergency alert.
Agents Armor
Bmonitored
HomeSnap Pro
Watch Over Me
First Sign
SafeTrek, as debuted at a recent Realtor® expo, is a handy little program that requires you to press a button and hold it down until you get into the house (or your car) safely.  If you don't press the button, it alerts your contact and authorities of your location.
Background Check Your Prospects
Check out prospective clients before you meet them for the first time with the following apps:
RealSafeAgent
PeopleSmart
SecureShow
Dial by Jewelry
Two revolutionary new wearable alerts include bracelets and watches.
Cuff bracelets
Agent Watch
Installing a safety app is good but you must continue to follow good safety procedures.  Meet clients at your office first and always travel with a partner.  Stay safe out there!  Nothing is more important than your good health and safety.