Table of contents:
Real estate drone shots make a massive difference when it comes to buying and selling both residential and commercial property. Agents know that to generate home seller leads they must show the clearest and most flattering property pictures they can. This can't be achieved with just a smartphone. 
2023 will leave many agents behind if they neglect to utilize the latest technology in real estate videography and photography. The use of drone property photography has taken the real estate industry by storm, and it's only getting better. There is so much to gain when realtors take this technology onboard like creating seller landing pages or search engine optimization. 
Homes with aerial images

sold 68% faster

than homes with standard images

73% of homeowners say they want to work with an agent that uses video to market homes

83% of home sellers prefer to work with an agent that uses drones

High-volume agents

use drones 3.5 times

more than low-volume agents

Drones

speed up the sales process

for commercial and residential properties
The following guide should help you navigate this booming world of drone photography.
Best Drone for Real Estate 2023
When it comes to selling homes and commercial property, the best real estate drone photographer will need a mixture of an easy to pilot drone, combined with strong imaging capability to get the perfect images.
Learn how to get seller leads with our home valuation landing pages
The market in 2023 continues to gravitate towards superior imaging in the buying and selling of property. Impressing leads with virtual home staging or your cutting-edge aerial photography is an effective way to convert leads into clients. 
These are the best video drones according to experts.
DJI Mavic Air 2:


With superior stability and imaging, along with a range of safety features, this is the best drone available for less than $1,000. According to

pcmag.com

, It could be the

best real estate photography drone in 2023

.

DJI Mavic 2 Pro:


This drone is similar to the Mavic Air 2, but has a higher camera resolution and folds away for easy transport. It is definitely a drone in step with cutting edge technology.

DJI Mavic Mini:
If you're looking at value for money, this sub-250g drone provides excellent stability for the best video shots for drone home photography and also collapses for easier transport. Wired.com names the Mini as the best budget drone, and second-best over-all for 2023.

DJI Mavic 2 Zoom:
Similar to the Mavic 2 Pro in terms of frame and design, this drone features a camera with zoom capability for capturing closer drone property photography

shots. It is ideal for the perfect

drone shot

.

As

techradar.com

points out, the zoom capability unlocks unlimited potential for

commercial drone photography.
Autel Robotics Evo:
A small, solid drone with decent battery life and an obstacle detection system. This drone includes a camera with a 4K resolution. According to pcmag.com, this drone is ideal for enthusiasts.

Real Estate Drone Photography
If you want to begin 2023 with a bang and sell more property, having the best property photography will be your not-so-secret weapon. You can take advantage when using those pictures creating ads on Facebook or Google it might increase engagement.
Realtors need to be a cut above the rest when it comes to delivering the best residential and commercial real estate drone photography.
Drone Photography Tips 
A good starting point for impressive drone photography is making sure that you have the best drone for your needs. Consider the battery life, the resolution of the camera, and pre-programmed flight modes that could be used for capturing the perfect videos or drone property photography shots. 
The do-it-yourself method is more rewarding than going with a professional aerial photography company. To help agents on their path to taking great drone photographs, we've come up with a few tips:
Prepare the scene –

Just like a director or professional photographer, you must prepare the scene before flying your drone. Make sure no distracting things are around the home like newspapers or lawn gnomes. Make sure the lawn is green and the bushes are pruned.

Know your drone settings –

You should experiment with the settings on your drone before using it in the field. Make sure you get the picture you want. Make sure the camera settings are correct. Become an expert on your drone.

Flight modes are your friends –

Most professional drones offer intelligent flight modes. Get to know those modes. Use those modes.

Stay low to generate leads and sales – Aerial map photography can lead to home sales. Although they're best as part of listing presentations, though. Aerial maps provide too much information for sellers or buyers. To get the best real estate leads, you want to stay low so you can get an idea of the property and surrounding land.
Made a mistake? Fix it in the editing room –

By becoming an expert editor, you can turn anything you shoot, video or photos, into pristine works of art. Editing is as important as the actual shoot for professional photographers.
Editing is so important that Home Value Leads feels that if you purchase a drone, you should also purchase photography editing software.
Drone Photography Pricing 
According to thumbtack.com, the national average that realtors can expect to pay for aerial photography is between $250 and $350. The following considerations will make a difference when it comes to pricing and charges for that perfect drone shot.
Factors that affect aerial photography prices include location, equipment, competitors, as well as the services and finished products required.

You may have to pay more for an aerial photographer to capture and edit high-quality, high-resolution photos and video. Prices will also vary based on whether you aim to capture an event, produce commercial images, or create images of a special viewpoint.

Expertphotography.com

reports that even though you can find cheap entry-level camera drones, you get what you pay for. The equipment you use has an impact on the overall cost of aerial photography services.

Professional drone gear can cost anywhere between $1,500 and $12,000 (or more). It depends on the make and model of the equipment. Higher-end gear typically produces a higher-resolution and higher-quality project, and the customer carries that cost.
Is cost a drawback? Absolutely.
But, that doesn't mean you shouldn't consider using a professional drone video service. No matter how much faith you have in your photography skills, professional services guarantee their work.
Not only that, but they also are experts at flying drones and taking aerial photographs.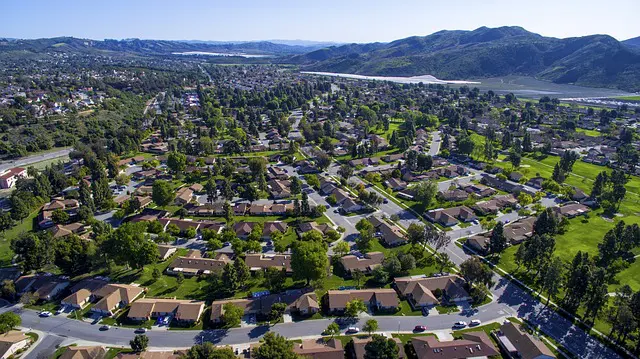 Real Estate Drone Video
Real estate drone footage makes all the difference to deliver that massive impact with a real estate listing. Many of those who use drone videography know that there are certain tips that will help create the best end result.
The standards that used to exist have been raised significantly. It used to be impressive to simply have the video, but in 2023 it is ideal to have a full and impressive package.
Drone Video Tips
Flatworld solutions recommend that you really know your device so that you can put it to the best use. Here are 7 additional drone video tips they recommend:
Know the rules and where you are allowed to fly. Depending on where you are, there have been many regulations when it comes to flying drones; even for real estate drone videography

.

Perfect the art of flying, or take advantage of pre-programmed modes that will get the perfect shot for you.
Go slow for that cinematic experience. You can always speed up a shot in post-production to make that drone footage

look like a high-speed fly-by

.

Know your kit, and how to use it. This includes both the drone itself, and how you can make the best use of the camera.
Learn how to edit video well, or find a good contractor to edit video. Getting good drone shots

and editing video can be two very different skillsets.

Shoot at the right time: Quite often sunrise and sunset provide the best lighting to get the perfect shot.
Learn some favorite maneuvers, incorporating some highly-skilled shots to prove why you are the best at drone videography

.
Drone Video Pricing
According to Drone base, commercial real estate drone video can cost between $149-$469, depending on the amount of time it takes to get the shot and the extent of the editing. 
Many drone videography experts, such as houselens.com will have drone footage packages on offer to choose from and different levels of inclusions. More cost-efficient options will generally start with including video only. Higher-end options will often include high-resolution aerial photographs or better videos. 
It is worth paying for a skilled professional to take care of your drone photography needs. When it comes to drone video costs, the hardware itself is usually high, to begin with, seeing as the stability and resolution both have high levels of sensitivity. It is definitely a worthwhile investment to ensure quality drone photography. 
Conclusion 
Numbers don't lie. Today's home sellers want to work with real estate agents that use both drone aerial photography and videos to market their homes. The real estate agent that generates the most listings sells the most homes.
All agents should take aerial photographs to both sell the home and generate leads. They should then use Home Value Leads Facebook marketing platform to increase lead generation. That integrate awesome aerial photographs into their HVL Facebook marketing are bound to see lead generation explode.
Check out all of our real estate solution features today and request a demo!