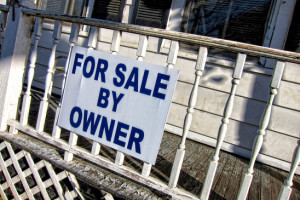 For-sale-by-owner (FSBO) properties will always exist as long as real estate does. Homeowners hope to save money and believe that they can handle the entire process, from start to finish, to successfully sell their homes. For real estate agents, "it's the low-hanging fruit" for those "who don't pay to advertise and don't have a big pipeline," according to Ryan Stewman, CEO of Break Free Academy.
It's important to understand the place of FSBOs in the greater landscape of real estate. This requires a special script to encourage them to eventually list with you.
Making FSBOs a Part of Your Listings
Variety is key to ensuring that you cover all sources of leads. FSBOs can be one of those important lead resources. Justin Davis with Keller Williams in Albuquerque, New Mexico, prospects FSBO leads every day. For him, consistency is key.
"In 2017, about 25 percent of my business came from FSBO leads that I converted to listings, and then to sales and commission checks!" he says.
David Hill, CEO/Realtor for Hill Team Associates and HergGroup Central Massachusetts at Keller Williams, has a schedule that he follows.
"I typically call on Mondays, but it really depends. Most will FSBOs will list in 30-45 days, so we want to be there when they are ready. I always ask if it's okay to check back in with them."
Bring Value to FSBOs
Calling on FSBOs is a great idea, and you surely aren't the only agent who's thought of it!
"Agents need to understand that when they are calling a FSBO, they are one  in 25+ that are calling," says Stewman. "In order to truly stand out, they must be different and have value."
Appleton, Wisconsin, agent Dylan Diersen of the Riesterer Team with First Weber Inc. feels the same way. For years, he's contacted FSBOs to discover that value is a huge part of nailing client in this area. He's come up with four ways to bring value and be consistent.
Reach out with a helpful mindset.
Follow up regularly.
Best time of day to reach out is between 4 and 7 nightly and anytime on the weekends.
Pay attention for signs that the prospect is ready to concede and list.
"If you are in a strong seller's market, [homeowners] know they can sell on their own, even if they are losing out on thousands," says Diersen. "They don't realize that they are losing out because they see the
REALTOR paycheck as very high. In a strong buyer's market it is much easier to get FSBOs to work with you."
FSBO Scripts
Read on to learn some scripts from Stewman, Davis, Hill and other agents who have found success with FSBO listings.
---
From Ryan Stewman:
I noticed your home is for sale in x neighborhood. Is it still for sale?

Great!

I've got a couple of buyers looking in your area, and your price range. Would you mind if I come by tonight at 7pm and preview it for them?
"This gets you in the door, from there you gotta close them down on listing with you."
---
From Justin Davis:
This is Justin Davis with Keller Williams and I'm giving you a quick call because I work with a lot of buyers and sellers in our area and I was just wondering… how could I help you?
"Usually, you can expect them to say, "Bring me a buyer!'"
"I repeat and affirm throughout the call."
You'd like me to bring you a buyer… that makes sense to me.
"I then transition to qualifying questions."
Well let me ask you this… if you don't mind me asking, where do you plan on moving once this house sells?

Oh, that's exciting! What brings you out there?

How soon do you have to move?

How long will you continue to try to sell on your own before interviewing some of the better agents in town?

I'd like to meet with you sooner than later so that you can size me up and see if I'm someone that you would like to work with and likewise I take a look at the property and tell you whether I think I can sell it or not.
"Then, I close for the appointment: 'Would later today at 5 be ok for me to stop by? Or, would tomorrow at 4:30 be better for you?'"
"Every call is different, but this is the basic framework for qualifying and getting appointments. If there is a point in the call where I can build common ground, I take full advantage of that to build rapport with the
prospect.
Oh you're moving back to New Jersey? That's where I'm originally from! Just got divorced? I've been there, done that and know how that goes! It's never an easy process. (both true statements!)
"The objective of the call is to get the appointment and get in front of the prospect. If I don't get the appointment right away, I follow-up and check-in every week or so to let the seller know that I'm here for them if they need anything. This builds trust and a relationship over time."
---
From David Hill, CEO/Realtor for Hill Team Associates and HergGroup Central Massachusetts at Keller Williams.
If I could show you how we can net you what you need after our fees would you list with me?

What's most important? Selling your home yourself or what you put in your pocket at the closing table?
Hill finds that the best time to have these conversations and to call is "as soon as they hit the market. I try to be the first agent to make contact. However, I just listed one who said I was  number 14."
Commission is another objection that Hill finds he must combat often with FSBOs.
"I feel 9 of 10 will list if they believe we can net them what they need (or want) to make on their home sale. Utilizing the scripts I mentioned above does help convert the leads.
"I personally do not do home tours for buyers. I tell them that I want to come by and discuss our marketing and see if we can help them net what they want and am very clear that there is no obligation to hire me which takes some of the stress off them."
---
From Desare Kohn-Laski, broker of Skye Louis Realty, which has more than 100 agents:
"When it comes to a seller who is choosing the 'for-sale-by-owner' way, it can be challenging to change their minds. However, it is possible.
"One of the most helpful scripts has been the Tom Ferry scripts.
"I also suggest calls between 8 to 10 AM.
"Following up is never a bad idea, but don't be annoying and scare them off. When conversing with a home seller, the main objection is always 'Why would I hire a realtor when I can put an extra 6% in my pocket?' A counter point to this is that FSBOs sell at 10 percent less than MLS-listed properties.
"The smartest decision for a seller is always going to be to stick with a professional and let us negotiate with buyers for you. Not only will we secure the best deal, but we also know all the updated information on the important guidelines that structure these deals."