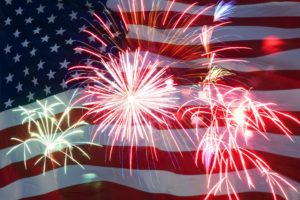 Can you believe Independence Day is almost here? It's a surefire signal that summer is in full swing and that we are halfway through the season. It's one of the funnest holidays, inspiring barbecues, family and friend get-togethers and fireworks-watching parties.
What do you have planned this Fourth of July for your real estate marketing? There are so many themes that you can follow and specific marketing campaigns that you can employ to join in and capitalize on the spirit of the holiday. Check out just a few ways that you can attract leads and bring attention to your listings and business this year.
Host an Open House Barbecue
Open houses take a lot of work, let alone adding an element of barbecue to it. But given the holiday and the high spirits surrounding it, it could very well be worth the effort! Hosting a barbecue open house will show off a fantastic backyard and possibly a built-in grill or kitchen by demonstrating to visitors the potential of a listing.
You might not want to invite anyone and everyone – you can only buy so much barbecue and supplies. So keep your list tight and relevant by inviting past clients and allowing them to invite one guest. Make sure that they RSVP so that you can keep an accurate head count.
When you host, make sure you have collateral available. You might also want to have someone help you, like an associate or a friend. You might turn to one of your real estate partners, like your local mortgage lender or inspector, to join you so they can meet your leads, too. If you go that route, you might also want to split the cost of hosting the party.
Volunteer or Sponsor a Local Event
During the week of Independence Day, you will find an endless list of events. From local fun runs to charity events to community parties, you can choose the type of event to join that suits your personality and business.
Volunteering is a great way to do something good as well as meet people in the community. You'll find that interactions will give way to conversations about what you do and inevitably to knowledge about potential sellers and buyers.
Sponsoring is another way to get involved. This gives your real estate business more exposure with ads, banners and other sponsor benefits.
Show Off Your Patriotism
Maybe you don't do anything business-focused this Fourth. You can definitely go the fun route! Utilize your Instagram feed and Pinterest boards to show off patriotic decor at your office, your team in patriotic gear or celebrating the Fourth early or create an Instagram Story showing off every property adorned with an American flag.