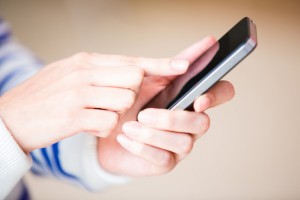 Text messages to real estate leads can be a very effective way to follow up and be directly in front of potential clients. It's faster, more direct and has response rates far higher than email alone. Done the right way, text messages can be an effective professional and personal step in your follow-up strategy.
Timing Text Messages
If you have a lead generation platform like Home Value Leads and capture a lead's phone number, it's good to have that information in your back pocket. Once you've sent your home value report via mail or email, for example, a follow-up text confirming receipt opens direct communication in an instant. It also sends the additional message that you truly care and are thinking about that lead specifically.
As a follow-up to something you've sent, you can usually go for the next day to avoid seeming too eager. It's a natural progression to ensure they've had a full day to receive and review without seeming too pushy.
Once you get started on text, it may be hard to end it. However, it's important to move the conversation off of text and towards a phone or in-person meeting.
Make sure you text during convenient times of the day. First thing in the morning or during dinner time may appear disruptive. Aim for just after lunch when things may be a bit slower and a surprise text will be more welcome.
Who to Send Text Messages to
Some agents may find that people in their area are actually more responsive to texts than to phone calls. This is where a little testing on your part will help you decide that.
Most people these days will be receptive to text messages, so it's definitely worth a try. The most receptive leads, of course, will be those who specifically requested information from you, came from referrals or to whom you have already sent a previous communication via email or mail.
Millennials are very mobile-centric when it comes to communications. They are likely to have a better response to text messages than their counterparts. Keep your messages professional to them, too – they'll appreciate the respect!
What to Say in Your Text Messages
In general, avoid sending a blanket text that just says, "Hi." As with any conversion tool, have a call to action. Invite them to a showing, a seminar you are hosting or to your office that week to go over information you have sent.
Some leads may forget that they even contacted you or received information from you. Start off by introducing yourself and reminding them what your follow-up is about.
A simple, "Hi, Joe, this is Jane Smith. I hope you received the home value report/market statistics that I sent to you yesterday. Please feel free to call me at this number if you have any questions," should do the trick.
If you have an automated text messaging system, make sure the right messages are going to the right people! There's nothing worse than sending a message confirming receipt of a report, for example, only to confuse them if they weren't on that list.
Tracking Your Text Messages
Most lead generation tools like Home Value Leads can help you keep track of when and what text messages have been sent. If you don't have a formal way of tracking text messages, tag your texts for each client within your CRM system with the response you received.
Try It Out
Text messaging may seem like an "out there" solution to following up, but doing so has many benefits. It brings a more personal touch to your services and distinguishes you from other agents out there. Best of all, it jump starts a real conversation and keeps you truly top of mind with your leads.