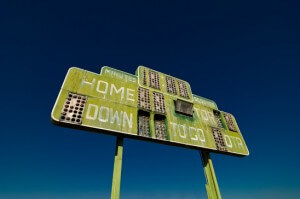 The best real estate agents always know what they need to do in order to generate leads and market their clients' homes. You may very well be one of them! But an area that many agents neglect (or marketers in general for that matter) is tracking efforts.
Tracking your real estate marketing efforts is not the same as tracking the results. Results is just one part of the equation. Efforts, however, will show you where your marketing dollars are the most effective and where they are not. What you put into your business, you will get out of it.
Here are a few of the areas that you should be tracking and how to track them.
Tracking Lead Generation Activity
This may be a review for some, but where you get your leads is an important area to make sure you are monitoring. It's not enough to turn on a lead generation tool and forget it, you have to be very specific with it's generation. Some lead sources to keep track of include:
Events
Your website
Lead-capturing websites like Home Value Leads
Referrals
Postcards
Listing sites like Zillow
Newspaper/magazine ads, billboards and other print
Lead referral systems like Home Value Leads and listing sites like Zillow have tracking capabilities from which you can draw a report at any time. Take advantage of these, set the reports how you would like to see them and make a point to schedule them into your weekly and monthly routines to review.
Your website should also have a great system in place. If you have a more custom website, Google Analytics is free and easy to incorporate to track where leads come from as well as actions they took before sending you an email or calling you.
Keeping track of leads from sources that don't have a built-in tracking system is as easy as tagging them in your CRM system. Then you can filter through, weekly, monthly, quarterly or annually among them. Label each of your event leads by the date and event. Referrals can be tagged with "Referral – [referral name]." (And don't forget to send these a handwritten thank you.)
You might send out thousands of postcards a year, so these may be the hardest to track. One way is to simply ask and to remind everyone on your team to ask leads where they heard about you. A second and more precise way given you may send out different postcards at different times is to put a tracking code near your address. Then you can ask the lead to tell you the tracking code on the back of your postcard to know which one they received.
Tracking Lead Follow-Up Activity
Once someone you have contacted turns into an actual lead, track the activity that follows. This can sound like a daunting task, but if you have a CRM system that can handle this, it is imperative to constantly record every follow-up next to each lead.  If you don't have one, you can set up an Excel spreadsheet to do this.
Drip campaigns can be recorded automatically, so make sure you turn on monitoring for any activities you automate.
The key is to make recording activities a habit. Whenever you make your calls, emails or texts, have your spreadsheet or CRM system ready to input activity. If you don't have them handy, send yourself an email to remind you to record them later.
Follow-Up activities to track include:
Calls
Emails
Texts
Thank you letters/cards
Postcards (a set that you send to leads only)
In-person visits
What is being sent out or what the activity performed is should be followed by more specific numbers, too:
Actual response time
Lead conversion to opportunity
Close rates
The best way to get started is to get organized. Make sure you are literally tracking every possible area for you and each person on your team. Life can get busy, but if you make tracking your marketing efforts a habit, you'll get excited at the results that you will see and make valuable changes to your business that can actually improve the results.