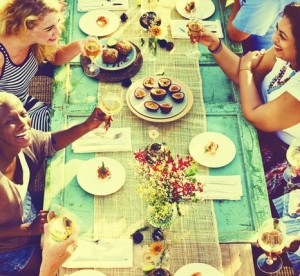 As real estate agents, it's become too easy to generate leads online. It's a great time to do so, as it lowers costs, invested time and is highly targeted. But one thing to keep remembering is that real estate is all about relationships and, with that, depends a lot on one-on-one, personal interaction. Here are some tried-and-true unique ways to get in front of prospective sellers and buyer to build your relationships in the local community and generate more real estate leads.
Join Your Local Chamber of Commerce
Every city or town has a Chamber of Commerce. It's a wonderful networking platform that helps you connect with other businesses in the area. For a relatively low fee (as low as $200 per year, depending on where you live), you can be a part of a business community that supports each other and provides valuable resources to connect with your local community. One real estate agent joined her local Chamber and, just through the contacts she made during regular meetings, luncheons and public events, was able to significantly increase her presence in her targeted area.
Chambers are not only a great way to connect with the community but also within the membership itself. You'll meet hundreds of other like-minded business owners who are typically those that like to mutually refer businesses. It's important to be an active member as the more you show up and meet with others, join committees or volunteer your time, the more you will be known for your services and naturally presented a book of business that you would not otherwise have found.
Volunteer When You Can
In the same vein, you can make lasting, personal connections in your local community and subtly advertise your services by volunteering your time to causes or events you care about in your target area. We all lead busy lives, so it's very important to devote your volunteer hours to something that you feel good about. Fall is a great time for neighborhood fairs, and they always need extra hands to organize, set up or manage areas of the event.
Do you have kids? Volunteer with the parent teacher organization or, again, a fair or upcoming event. When people volunteer, conversations take place all the time while work and planning are being done as you all get to know each other. So it's a great time to naturally mention what you do and put yourself top of mind with local movers and shakers.
Host a Block Party
Do you live in the neighborhood that you farm? Then have your neighbors come to you! A block party is a fun way to bring everyone together and get them talking. It might sound overwhelming to put something like a whole block or neighborhood party together, but you can make it simple. Advertise it at least two and then one month in advance on your neighborhood's Facebook page, if there is one, or NextDoor.com page. Ask your neighborhood newsletter, HOA or other neighborhood association/group if they can publicize it. And you don't have to spring for all the food and decorations. Ask people to bring their favorite dish, help decorate and to bring their own chairs. Neighborhood picnics, especially now that the weather is not unbearably hot, can be an exciting get-together.
Sponsor a Local Sports Team
Whether its for little kids or big kids, invest a little money into sponsorship for your local neighborhood team. Little leagues, soccer clubs and event adult-oriented softball teams, for example, are always looking for sponsors to help underwrite costs. If you don't have that much cash to spend, offer to subsidize food and drinks, signage, part of their uniforms or a lunch where even the parents can come – and where you can meet them!
Co-Brand with Like Businesses
Partner with another local business like an interior designer, insurance agent or other real estate-related professionals and cross-promote your services with each other. You can simply be the real estate resource for them and vice versa, leave cards with them to hand out to clients or even put together your own small local event that educates the community on every aspect of home selling or buying.
These are just a few ideas to get the ball rolling on getting more leads personally. What's worked for you?