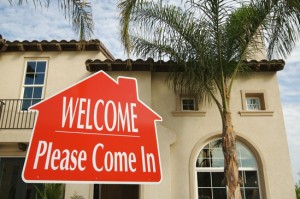 It's open house season time! Spring and the beginning of summer are no doubt some of the busiest times of the year for real estate agents. People have the school year behind them, some are making job changes and many are just ready to take the plunge and sell or buy a home.
We asked experienced real estate agents across the country to tell us what unique ways they have employed to advertise their open houses. They certainly gave us some great ideas! And now, we're going to share some of the best to help you advertise your next open houses to rise above the competition.
"Invite Only" Open House
Of course you would like to have everyone and their mother coming to your open houses. But what if you could find a concentrated group of potential buyers who already know your neighborhood because they live in it?
That's what an "invite only" open house can do for you. Tracey Hampson of Century 21 Troop Real Estate in Valencia, California, gave us this great suggestion.
For her last listing, she invited neighbors of the open house by knocking on their doors and personally inviting them to a "Private Open House, Wine And Cheese Viewing Party."
Instead of having photos on the invitation as she normally would have, she gave them an invitation that looked much like one you would give for a party you would host for family and friends. She enhanced the exclusivity of the invitation by requiring that invitees bring the invitation.
During the open house, Tracey provided the promised refreshments, mingled and, of course, talked about the house. Everyone left with a bottle of wine that included a specially created label with a photo of the house.
In the end, she ended up with a friend of one of her guests buying the home. It was well worth the effort!
Open House Every Day
Tracey was just full of good ideas and gave us this next one: An "Every Day Open House."
She placed a sign on the front lawn inviting buyers to call her whenever and if ever they wanted to view the home. The direct invitation raised her viewings by 20 percent.
In addition, she acquired a number of clients who did not already have an agent just by there having come by.
Local Partners Open House
The traditional ways of advertising an open house – online, print and in-person – are always effective, according to Source Capital Funding Founder and Principal Sacha Ferrandi. Sometimes a little extra here and there can make a big difference.
For example, partnering with local businesses to co-sponsor an open house. Offer to provide samples or discounts that are given to open house attendees. The local partner can then advertise on your behalf to their customers that you have an open house touting their offers.
A unique idea is to create a scavenger hunt throughout the neighborhood. This might take a little more work on your part, but it is definitely a stand-out advertising idea. Attach a riddle or question, perhaps about the neighborhood, on each sign, leading them to the next question. They will then end up at the open house.
Tacked onto this, you can hold a raffle at the open house, where local businesses, again, can provide prizes.
Multi-Unit Open House Tour
If you have a condominium building with multiple listings, hit them all in one shot with an open house tour. Collin Bond of Douglas Elliman and his team in New York City, a quite competitive market, held a whiskey and wine tasting open house with hors d'oeuvres. This angle played in perfectly with the more posh New York City market.
They ended up with an incredible turnout for their five listings. Potential buyers were able to tour five units and put one of the units into contract in just one week.
Could these unique open house advertising ideas work for you? What ways have you advertised your open house that have done wonders for your real estate listings?