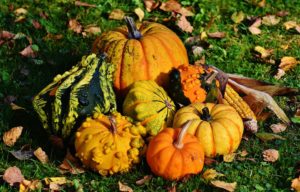 Thanksgiving is just around the corner. What better time to show your appreciation for your real estate clients than this favorite of American holidays?
You can go the traditional route and:
Send a simple email
Mail a themed postcard or mailer
Deliver a card or small gift in person
If you're looking for some different ways around your Thanksgiving marketing this year, then check out these three ideas to make your real estate business stand out among the crowd.
Thanksgiving Food Drive
While this is not a new idea, this can definitely be a unique experience for donors by having your food drives at your various open houses. It's the perfect way to promote a listing (which you were going to do anyway) and to support a great cause.
Promotion is everything for a food drive. Update anywhere the property is listed with a quick open house mention with date and time as well as a call to bring nonperishable items that will go to your local food bank or a local soup kitchen.
Make sure, too, that you, of course, let people know on your social media channels, website and newsletter. Want to make it more exciting? Have a goal of how many grocery bags, boxes or weight you would like to collect in food, then update everyone on social media with relevant images ever so often.
Thanksgiving Appreciation Celebration
Show your clients that you are thankful with a client appreciation celebration. You can hold this at a local community center in your farm, your office or, if you want to get more creative, at a current listing that has yet to be publicized (use discretion with which one you choose).
A casual but mailed invitation would be best for such an event to give a more personal flair. Be sure to collect RSVPs at least a few days before the event and send reminders via email.
You don't, however, have to limit the guest list to just your clients. Include your cross-promotion partners (lenders, inspectors, etc.). They may, perhaps, be people with whom your clients have worked, so it will really be like a mini reunion for everyone.
Start a #Thankful Campaign
Starting the first day of the month, share what you are grateful for as a real estate agent with a #Thankful campaign on social media. Whether it's a special client, cross-promotion partner, property or even your family, challenge yourself to come up with something to be thankful for and share a few times a week.
Whenever you share what you are thankful for, encourage your audience to do the same with something similar. For example, if you have a story about a client who was particularly challenged with finding a home or selling it, ask people to share their stories in the comments about something they overcame that year for which they are grateful. Or if you share about a business colleague, ask people to share their grateful moments from work.