Besides Labor Day, what other holidays are worth promoting this month for real estate agents? According to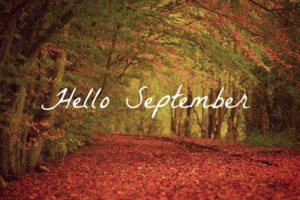 our favorite National Day Calendar, plenty! September heralds in the official first day of fall, schools' officially starting and more.
So, what holidays can you take advantage of as an agent to make your marketing efforts more fun? Read on to check out a few, then head on over to the September page of National Day Calendar for more.
Yes, this is a real holiday! Started by President Luke Lorick of Tailgating Challenge, National Tailgating Day encourages Americans to come together with family and friends to root for their favorite football teams.
How can you, as a real estate agent, promote this to your audience? First, don't be afraid to share who you'd root for on this day. You might not agree with everyone, but it's all in good fun! You can also host your own tailgating party and invite your closest or newest clients – and encourage them to bring a new friend.
Did you know that National Grandparents Day has been around since 1978? It's an opportunity for kids and adults alike to honor their grandparents for everything they've done for us and what they've taught us. It's a special bond that definitely deserves its own special day.
If you have a special connection to your grandparents, share it with your clients and leads. They'd love to know a story or two that you share in your next newsletter or social media. If you have a particular farm and know some grandparents in them or have clients who are proud grandparents, you can feature them as well.
This is definitely a holiday that everyone and anyone can get behind. Who doesn't want to make their neighborhoods and surrounding areas cleaner? This is what National Cleanup Day is all about.
You could organize a cleanup and invite all of your clients and leads. It's a wonderful way for you and your clients to reconnect and to do something great together.
Don't forget to publicize it weeks in advance via your newsletter, social media and website. For even more mileage, partner with another local business with whom you work closely for even more reach and more resources to support the day.
Another proclaimed national holiday by Jimmy Carter in 1978, National Good Neighbor Day reminds us to do nice things for our neighbors.
You can put together a simple tips list of ways that your clients and leads can be good neighbors. Post this in your next newsletter, create a blogpost about it and post on social media. If you can get creative and produce a colorful infographic to go with it, then the better your message will be read!