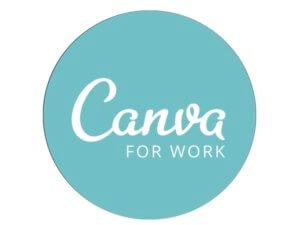 When it comes to social media, branding your real estate business and enhancing your website or blog its all about visuals, visuals, visuals. In today's world where you have seconds to captivate your audience, images are more important than ever.
If you have the budget, you can hire someone. But if your strength does not lay in the creative and you don't have the budget, then Canva for Work is the way to go!
We extolled the virtues of using Canva in our last post. As an online graphic design tool that is extremely affordable and fun to use, you can't go wrong and will tap into your artistic side in no time.
What's Different About Canva for Work vs. Regular Canva?
Canva went one step better for businesses and developed Canva for Work. This incredible suite of design tools will help you and your real estate team jumpstart your own "in-house creative agency" in no time.
Some of the features that you and your team can enjoy on top of all of the great features you love about Canva:
Create your own brand kit – Save brand colors, logos and fonts. This is the super important first step to ensuring that your branding is consistently on point across all collateral you create. Have you ever, for example, seen a particular color and instantly connected it to a brand? Or seen a particular font and aligned it with a particular product or service? Sadly, logos might seem like an obvious brand asset to use consistently, but you'd be surprised how many real estate businesses use an old logo on a postcard and a new design on their website.
Resize designs to fit any type of collateral you create – Why recreate the wheel? If you create a design for one asset, then squeeze out as much artistic juice from it as possible. If you have a postcard, for example, to send out to your leads about an open house, you can resize that 4-x-6 into a square image for Instagram or Facebook. No thinking required!
Save brand templates – Templates save time and effort. So it's only genius for Canva to allow you to save templates for every type of collateral. Listing presentations need only have specific stats and images dropped in, blog post images need only have the image exchanged or specific listing flyers simply need the property images changed out.
Organize images into folders – Don't you just hate having three different systems to organize your assets in a bunch of different folders (or subfolders) and not being able to find anything? Canva for Work keeps all of those images together in folders that your team can access.
Mix and match designs – We love that you can actually get a little more creative by mixing and matching designs.
Upload singular fonts – If you ever had a graphic designer or type artist in the past create a special font just for your real estate business, then you can make sure that font can be used across all of your design assets.
Collaborate Easily with the Team
There's nothing worse when trying to create a cohesive real estate brand than seeing a flyer different from an add different from a Facebook post among your team. With so many competing real estate agents out there, you definitely want to stand out and stand out consistently.
The best way to do that when creating assets for everyone to use is to make sure everyone is on the same page. Or, in the case of an online system like Canva, in the same program.
Some of the cool collaboration features Canva allows your team access to through Canva for Work:
Share photo folders
Create team templates
Team stream to share designs
Access controls for teams
Why not give Canva for Work a try? Right now, they are offering a 30-day free trial, plenty of time for you and the team to test drive the system. Even if you aren't 100 percent sure whether Canva for Work is for you after the trial is over, it's only $12.95 per month for a monthly subscription ($9.95 monthly for an annual subscription).