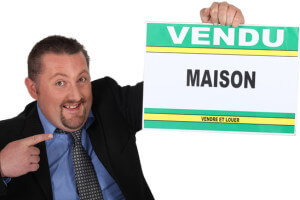 With more than two million active real estate licensees in the country today, it's no wonder the real estate industry is more competitive than ever. To give your business the best shot, it's important to create a unique real estate brand. This can be one of the most challenging aspects of marketing for some agents. As you'll discover from a few whom we talked to, it's a lot easier than you think.
Offer Something Really Different
Many markets enjoy an extremely diverse community. Some brokerages like International Home Realty (IHR) in Irvine, California, are taking advantage of this diversity.
Since they've been in business for the past 12 months, IHR has capitalized on the variety of languages spoken in their market. Their tagline? "We speak Your Language." With this specific focus in mind, Broker Jerry Koller built a team of agents who speak Cantonese, Mandarin, Japanese, Farsi, Spanish and English.
"This helps with the local market in Southern California as we get clients from all over the world," said Koller. "We market to Asia and Europe currently as there are many clients coming here from around the world."
Business is booming, too, outside of their own agents. Other real estate companies in the area call Koller and his team to assist with clients who experience a language barrier.
"We look to help people in a way that is close to their hearts – their own language," said Koller.
Make a Name for Yourself – Literally
If you've ever watched daytime or late-night television, then you have no doubt run into the plethora of slogans from personal injury attorneys: "The Hammer" or "The Strong Arm of the Law." They're funny, at times silly, but one thing's for sure. They're memorable.
Matt Metcalf from Denver, Colorado, is a real estate professional known locally as the "Mile High Home Pro."
"As I have been in the Mile High City (Denver) real estate business for over 20 years, my mile-high brand is a symbol of experience and knowledge that are above and beyond my competitors," said Metcalf. "It is a sign of expertise and assurance of the best service in real estate with a long-term outlook in the Denver market."
Metcalf listened to the good and bad experiences of sellers and buyers in Denver. From that feedback, he decided that a Denver-specific angle would not only establish his expertise but also help people relate to him more personally. The moniker is memorable, familiar and follows him where he goes. He uses it everywhere, whether he is working with local nonprofits, writing blog articles or contributing to local Denver real estate news.
Unique Brand Idea: Family Matters
Family branding works for many fields, and real estate is no exception. One father-daughter real estate pair who does it well are Holly Henbest and her father Tom Henbest of The Henbest Team with Realty ONE Group in Scottsdale, Arizona.
"We are a Daughter and Dad Partnership, and we in turn partner with our clients," said Henbest. "We are a family business, supporting families and individuals. Our approach to real estate sets us apart from the rest."
Trust, integrity and education are other hallmarks of the Henbests' real estate marketing strategy. These, they believe, come naturally with their focus on family.
"We want our buyers and sellers to feel educated in the process and feel comfortable that they are working with people who have a high level of integrity. Trust is critical. We want people to feel confident in their partnership with us."
With such a unique real estate brand behind their business, the Henbests ensure that their message is everywhere. From print to social media ads, local community involvement with organization such as Toys for Tots and Susan G. Komen, and educational opportunities through local media, you can find the Henbests all over the Phoenix-area market.
Added Henbest: "We use our tag lines 'Partner with the Best! The Henbest Team!' and 'Dynamic Daughter and Dad Duo' to support our mission that we are a Partner with our Clients, are the best at what we do, and are always evolving and growing."
Keep It Simple
Finding your unique real estate brand may sound daunting at first. But with a little more attention to how you relate to clients, what you stand for and how you operate, it may just land in your lap more easily than you think.
"Choose something simple and memorable and be an ambassador for that brand," advised Metcalf. "It is all about the client and your service to them, ultimately."