I've been on the internet for a long time. During the past 4 years a large percentage of my lead generation was done through one of my many websites and nearly all of it has been organically generated.
You may be asking what "organically generated" means and you may not even fully understand the difference between SEO and PPC. Well, lucky you because that's what this article is all about.
Strap in and let's take a look at the difference between SEO and PPC for real estate lead generation.
SEO For Real Estate
SEO stands for Search Engine Optimization. This means how friendly and how popular is your website to search engines such as Google.
Learn how to get seller leads with our home valuation landing pages
How likely is Google to show your website to someone who is searching? How high will they rank you in that search? Unlike PPC for real estate, Google determines where it will place your site when someone searches based on an algorithm.
This algorithm takes into account a ton of factors including site age, the content on each individual page, the number of linkbacks you have, and a ton of other items.
Where you rank on the search page matters. A LOT. According to one study, the #1 position on Google will receive 33% of all traffic for that search term, and it drops pretty dramatically after that.
The study shows that 92% of people will click on something on page 1 of Google, and nearly 70% of all clicks go to the top 4 spots.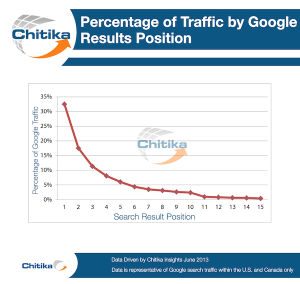 This shows traffic for the first 15 results on Google. Taking a quick look at this graph will lead you to a stunning realization that if you aren't on top, you are on bottom.
The benefits of developing an SEO plan for your website is that it is FREE traffic. Content generation, taking time to learn SEO optimization, and the time to create backlinks is all free other than the time.
The problem is that it takes a while. If you start a new site from scratch, don't expect to rank organically for at least 6 months. If you can't put out regular content, don't plan on ranking at all.
Search engine optimization takes a serious time commitment and plan. Corporations pay millions of dollars per year for teams of professionals to do their SEO. It's not easy, but it can be very rewarding.
I have articles that were published 3 and 4 years ago that are still very popular and still rank quite high in Google. A single article I did on protesting your taxes back in 2011 accounts for a significant portion of my database and has made me a ton of money.
That is the power of SEO over PPC for real estate.
PPC For Real Estate
PPC stands for Pay Per Click. That is the literal definition, however the generic term is used to describe all forms of internet advertising. While some say that internet advertising is dead and nobody clicks on ads, that couldn't be further from the truth.
Wordstream has a very interesting PPC infographic that indicates that for people looking to purchase something soon, about 65% of those click on a sponsored link (aka an ad) vs 35% that click on an organic result.
On top of that, they state that 45% of people couldn't identify which ads were paid and which were "organic" if they weren't in the right column. The more ready to buy they are, the more likely they are to click on an ad.
This means that using PPC for real estate can help to generate some fast commission checks. The downside is that the learning curve is a bit steep and it will cost you money.
While SEO's benefits can be long lasting, PPC stops as soon as you stop paying for it. The plus side of PPC is that it can generate business for you today (literally).
What Does This Mean For Real Estate?
As is everything in real estate, it is important to balance the technologies and tools that you use to succeed with what your business currently needs. SEO for real estate is a great long term tool, but provides no immediate benefit for you as an agent.
If your pipeline is currently full, this may be the direction you want to go in 2014. If your pipeline is hurting or you have a hungry team to feed, PPC for real estate leads can help make this possible or bridge the gap between now and the time your website is producing enough leads for you organically.
If PPC for real estate is an avenue that you'd like to travel, you might want to check out our seller lead generation product. Our seller landing pages are highly optimized to convert clicks into clients and our private Facebook group is full of users who have traveled the road of learning PPC and are willing to help you out.
Sign up today and start generating leads by tomorrow.