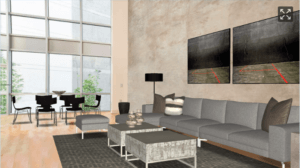 Staging is a critical part of any listing. However, it can cost thousands of dollars to stage a home with actual furniture. That's where virtual staging can be a huge help to real estate agents and their listing clients. roOomy is one of the latest in a variety of online tools that can help buyers envision a home in its best light using virtual staging technology.
Chew on these facts provided by roOomy on their website:
A staged home sells for 17% more, on average, than a non-staged home, and 95% of staged homes sell in 11 days or less. That is statistically 87% faster than non-staged homes. – Forbes
Over 81% of buyers find it "easier to visualize the property as their future home" when it's staged. – National Association of Realtors
A roOomy virtual staging will cost you well below 0.1% of the listing price. That equates to thousands of dollars in savings and valuable listing time versus traditional staging services.
Our interior design teams stage with current, on-trend home décor from top retailers such as West Elm and Wayfair, enabling you to engage a larger pool of prospective home buyers.
What is roOmy?
roOomy is a tech company that provides virtual staging for real estate agents, home furnishing companies and interior designers. If you're looking for a cool, cost-effective and relatively easy way to visualize a room with a specific style and set of furniture and decor, then this is the tool for you.
roOomy allows you to upload a photo of every room in a house then to choose from more than 100,000 furniture and household items to decorate it.
This is perfect for a newly built home, a home whose decor is not the most marketable or a property that has yet to be built.
How Does roOomy Work?
The team at roOomy has made it super easy to not only get started but to get your virtual staging complete in a relatively short period of time. It all begins with a simple contact form to let them know what you need and to submit your listing images.
From there, the roOomy team will get to work to create custom 3D images of your newly stage rooms. They actually style the rooms for you. It's like having a personal interior designer staging your listings.
You approve the proofs of your staged images then receive high-res, realistic-looking images to use. You will also receive a web link to embed your images in case you'd like to include on a page in your website or on your blog.
But Wait, There's More
You didn't think the roOomy team would have all the fun, did you? You and even your clients can use the roOomy app to stage a listing on any iPad.Augmented reality is another awesome feature, using the roOomy Reality app built for Google Tango.
Virtual staging is one of the easiest ways to help you and your clients close faster. Now with tools like roOomy, it can be even easier and save you and your clients time and money. It's a real win for everyone involved!