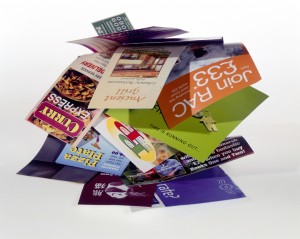 A real estate mailer recently crossed my desk advertising the services of a real estate agent in my area. Several things jumped out at me as I scanned over it meticulously. I thought it was a pretty good postcard and wanted to share some tips on what makes this real estate mailer stand out among all the others I've received the past few months.
Perfect Timing
We've mentioned before how targeting home sellers, for example, at just the right time is crucial to getting ahead of the listing curve. If you start marketing to them in April or even March, then you may be last to get in front of them or risk having your postcard thrown in with every other real estate mailer.
It's February, and Robert actually sent out his postcard in advance of the busy spring listing season. In fact, I haven't seen a real estate agent postcard since November, maybe early December. So his being first meant he was also the only.
A Great Message
Robert's timing wasn't a coincidence. The very first question that he asks on the postcard in large, capital letters is "SELLING IN THE SPRING?" Then he follows with a smaller message to support the question, "Don't Wait Until It's Too Late, Let Me Help You Now." Next is his call to action, "See why you should start now" and (our favorite!) a landing page specifically dedicated to selling in the spring with www.hiswebsite.com/spring.
The entire message flows, it's succinct and it all draws people to a specific area of his website that will talk in more detail about spring selling.
Landing Page Creates Urgency to Act
Robert's landing page creates urgency. The message? To get in front of buyers who are ready to buy as soon as possible. He basically keeps building on urgency from the postcard to the landing page and expounds on why it's important to start.
He then creates an offer that is beyond just "call me!" He offers a free home evaluation and free staging if you give him a call.
It's up to you what you'd like to include as an offer, but these are two great ideas. He bolds the statement but to make it really stand out, placing the call to action and offer in a box in a bright color complementary to the site helps make sure no one misses it.
One thing I will say about Robert's landing page is that it could use some great imagery. Maybe some before and after shots of a home he recently staged or some stats on how much preparation can improve a property's sale.
If you have want to test markets, you could create two slightly similar pages on your website that have two different URLs (/spring and /spring2016 for example). Using your backend analytics, you can see which postcard (segmented by neighborhood or zip code) brought in the most clicks.
Conclusion
All in all, this postcard is a great example of applying real estate marketing concepts that generate and nurture leads. It establishes your expertise as a real estate agent, creates a need that sellers may not know they had and offers them something that they will find valuable enough to make a call to you over other agents.
What mailers do you have prepared for the coming months? Leave your tips and ideas in the comments below or visit our Facebook page and share them!