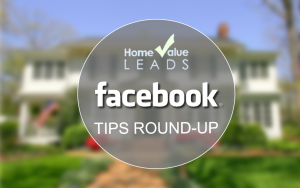 Over the past year, we've provided a plethora of Facebook tips and advice for real estate marketing, and we hope you've found it helpful. In order to give you a comprehensive overview of everything we've shared and best practices we have employed, we have gathered together all of the posts to-date that we have written to answer your questions about Facebook marketing, all in one place. Check out our summaries below for highlights on starting and maintaining your Facebook page and ads for your real estate business then click on the links below to dig deeper.
Personal or Business: Create your own business page separately so that you don't have to monitor personal information you share with your business.
Facebook Pages Areas of Focus: Cover Photo – It's a great way to display a collage of homes that demonstrate the kind and range of properties or niche market you list, for example, or a sort of ad that highlights a premier listing. Profile Photo – You can also always change this to keep your page more interesting and to update it periodically. Preferably use an image of you with a "For Sale" sign or with a client in front of the house they are selling would give this space a more personal touch.  About – Mention what you do, your philosophy on working with clients and how you work with them. This may evolve with your business and experience, so don't be afraid to change it – it's encouraged! Change your Facebook web address to something catchy and searchable like http://www.facebook.com/ChicagoRealEstateListings, if it is still available. Like Other Pages and Promote Likes – Like other pages then tag them in relevant posts to get your message out to their networks. Start with the pages of your preferred lenders, inspector, etc. Then, branch out to the community – local restaurants and businesses, political figures like the mayor and town council, and the city itself. Don't forget to ask your clients through an announcement to like your page.
Content: Remember, this should be more about providing useful information than how great thou art. Examples: Tips on staging, remodeling, exterior maintenance, packing, moving – anything that would be found helpful by a potential seller. Market statistics including recent sales and new listings in the area. New restaurants and businesses. Any of these businesses having a promotion? Share it with your page (and make sure to tag the business). Articles about new developments in the areas you list, general real estate news and other shareable content. Fun items like funny videos you come across that relate to real estate sales that you can comment on. Client testimonials – if it can be video, even better! The list goes on and on – get creative! Other Cool Features For Your Real Estate Facebook Page
Other Areas to Focus On: 

Reviews

– Once clients like your page, invite them to post a review of your services on your page. You can find reviews by clicking on the "More" tab below your cover photo. Photos – Create albums with different themes (i.e. clients, neighborhood attractions, events, etc.) in addition to great photos of your listings. Be sure to add a description for the album and each photo. You can also tag businesses in them or people who like your page. Videos – Create simple yet informative listing videos, client testimonials and videos to let prospective clients learn more about you. Events – Invite your Facebook followers or even your personal page friends to an open house, a seminar, fundraiser or other event you are throwing relevant to your business. Be very targeted about this: Nobody likes to be invited to an open house when they live half way around the country. Notes – Add "case studies" about clients or provide advice and share the link from the note on your timeline, website or newsletter.  Boost Post Button – For a set price and period of time, you can actually target certain demographics and share that post beyond your followers. Don't break the bank and use sparingly – it can be a great way to get more traction for an important post and to gain new followers.
Select the "Everyone in This Location" option from the "Location" dropdown. Deselect the default "United States" and enter in the zip codes for your target area. Be cognizant for your particular ads of which zip codes make sense. If you are targeting a specific type of area in a city, then enter all zip codes for those type of properties. If you only focus on one specific area of town, then enter the zip codes relevant to that and even surrounding areas.
Use our handy template to organize your posts ahead of time and pre-schedule them in Facebook. Each column in the template includes a place for the day of the week, date, time and the different social media platforms you use. For the latter columns, include the actual message you will post, including any tags (be sure to tag people and organizations that were involved in the post) and hashtags. You can also figure out photos that you can use and include those in your planner. Save them in a folder where you know you can find them and label them so you know quickly for which posts they are (a simple label with the date, starting with year first – 2015_10_30 – works well).
Set Up a Facebook Ad: Go to Facebook.com/Ads to place an ad. Pick your target audience by demographic, activities and interests (especially in relation to amenities in your area) combined with a city or zip codes. Play with combinations until your reach a sizeable audience to increase your ad's exposure.
Ad Type and Bidding: Select "Click-through to Website" and link the ad to an informative landing page on your website or your HomeValueLeads.com landing page. The copy on your page should then reflect a question such as "Are You Thinking of Selling Your Home?" or "Have You Wondered How Much Your Home Can Sell for Right Now?" Bid above your top range of pricing to make sure your ad is as visible as possible. Set a daily budget so that you spread your budget across multiple days. Make sure your ad is in the Newsfeed of your target audience's personal pages, NOT the right column.
Images and Copy: Images of attractive houses or one that you are selling will give your target audience the most visual, immediate information about what kind of houses you sell. In your same campaign, A/B test different images by changing images for different ads within your ad set or campaign.  Keep your call to action short, sweet and informative. For example, "Click here to find out how your house compares to others in the market. Get your free report today." Ask a question or mention right away what your offer is in your headline. In the Advanced Options section, include copy in the Newsfeed Link Description. Check the "Social Activity on the Ad" box so when others like your page, their friends will see it on the ad that appears on their newsfeed and feel more compelled to like it or take action, too.
How Much to Spend:  Start with $20, daily, pay-per-click. To figure out your cost per lead, divide how much you've spent by the number of leads for that same period. Even more importantly, figure out your cost per conversion to a client by dividing number of clients yielded from your ads by how much you spent for the ads up to the time the last client clicked on your ad.
The targeting and messaging options in Facebook are quite dynamic versus other ad options. You can create very timely, tailored messages that will appeal to specific demographics in certain geographies that you choose and can change any time. Think generation demographics, for instance. Your message will be very different to a millennial than a baby boomer, right down to the image you use. Add the geographic area you desire, and you've got a highly targeted campaign that will give you a good chance of attracting customers. Examples of targeting options for your Facebook ads for real estate are age, location, homeowner, the type of home they live in, if they are married, if they have children, or even target those living in apartments.
Facebook counts clicks to links outside of Facebook as part of a business' CPC campaign. The problem is that CPC also included more Facebook-centered clicks like likes, shares and comments in the equation. So it was hard to tell if your cost per click was actually driving traffic through clicks that matter for your business or were mostly clicks that resulted in engagement on Facebook.
Now, only "link clicks" like the ones below are counted toward the CPC metric:
Clicks to visit other websites.
Call-to-action clicks that go to other websites, such as "shop now."
Clicks to install applications.
Clicks to Facebook canvas apps.
Clicks to view videos on other websites.
With all of our Facebook tips for real estate marketing to-date here, what other pressing questions do you have to maximize your exposure on the world's most popular social media platform? Leave your questions in the comments below, and we'll be happy to answer them in a future blog post!