At Home Value Leads, we are all about ways to help you connect with your real estate seller leads, whether they come through us or by other means, and engage them from the minute they arrive.
This can pose a challenge for many of you who don't have the time nor the manpower to do it.
That's why, when we came across the human-powered lead communication tool Riley, we couldn't help but share it. We had the privilege to sit down with Riley Co-Founder Daniel Ahmadizadeh and learn from him the story behind this growing service and why it could be your favorite lead follow-up tool ever.
Home Value Leads: When did Riley start, and what was the motivation to start it?
Learn how to get seller leads with our home valuation landing pages
Daniel Ahmadizadeh: We noticed that real estate agents were enslaved to their phones and had leads contacting them 24/7. Existing solutions to engage leads were either automated or agents had ISAs for certain hours of the day.  
At the same time, we noticed that people prefer to text versus any other mode of communication. We went live with this current version of Riley in March of 2016.
HVL: What is the history of you and your team?
DA: My co-founder and I live in a 480 sq. ft. studio in NYC and our team is based here. We're soon moving to Mountain View, CA as we are part of the most recent Y Combinator batch!
Helson (co-founder and CTO) has taken a leave of absence from Columbia University to work on Riley.  We've built a strong team and looking forward to continued growth.
HVL: Why the name "Riley"?
DA: When Riley first started, it was a project that was meant to help people find their next home via text-message. We built the site in 3hrs on the night of June 19, 2015. It wasn't meant to be a startup! When we woke up, it had been featured on ProductHunt and we went "viral" AKA people were texting and we needed to respond! The name Riley is completely random. The Golden State Warriors basketball had won the NBA Championship and the daughter of the best player, Riley Curry, was in the news. She was an adorable 4 year old and we needed a name for our project…thus Riley was born!
HVL: How do you integrate with platforms like Home Value Leads to be able to capture leads and funnel them to the system?
DA: We've had 300k+ text conversations over the last nine months of being live with this current evolution of Riley. Many of our users are customers of Home Value Leads, and we handle their leads on their behalf. We text them within two minutes, 24/7. Riley is 100 percent human-powered.
HVL: How large is your network of agents?
DA: Our community of users continues to grow each day! We currently have 600+ you can find them on this group: https://www.facebook.com/groups/251811898536998/
HVL: How do these agents communicate specifically with a lead by market and how are they trained to take calls?
DA: We have a demo on our site, but when a lead contacts an agent (or when a lead gives you their contact information), that lead gets automatically routed to Riley. We then text them using scripts that we have found to be the most engaging. Our users however can customize the scripts however they wish.
Ex: A lead contacts an agent at 2 a.m. By the time the agent wakes up, they will know that the lead is approved for a loan, not working with a realtor and looking to sell next month.
HVL: How have you been able to measure success with Riley for agents, and what is that success rate?
DA: Yep! Our users have seen a two-time increase in their engagement rate.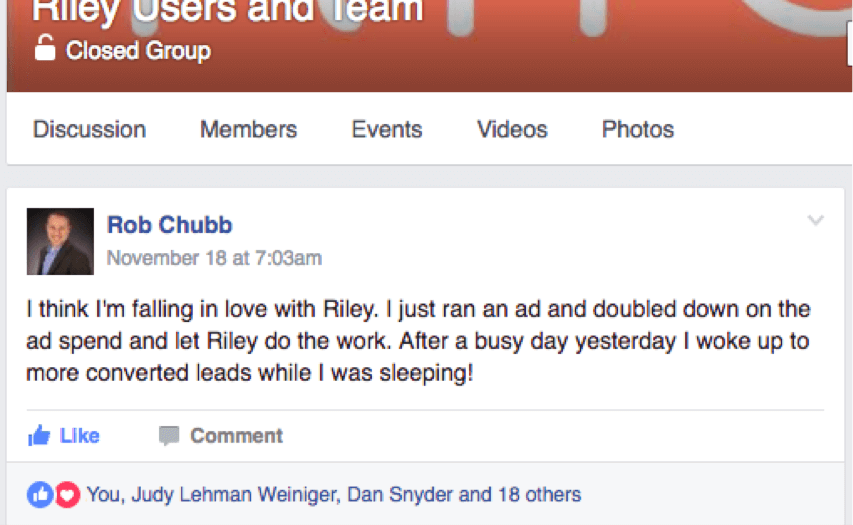 HVL: Which markets do you currently serve, and what are your plans for growth?
DA: All! We're live in all 50 U.S. states and Canada.
Our plans for growth? Have every agent that gets leads online and who is enslaved to their phones to attain peace of mind by using Riley.
HVL: Please share one or two awesome stories of how the system works or specific stories that highlight your capabilities.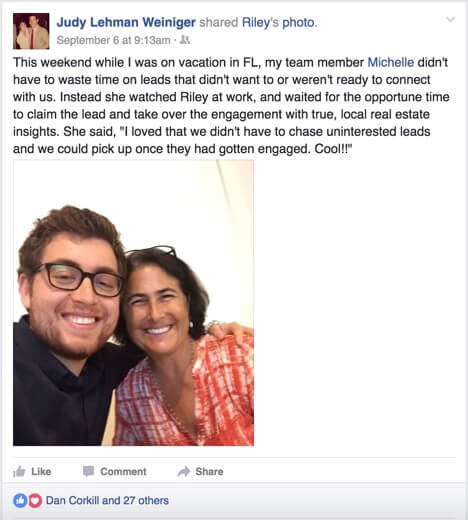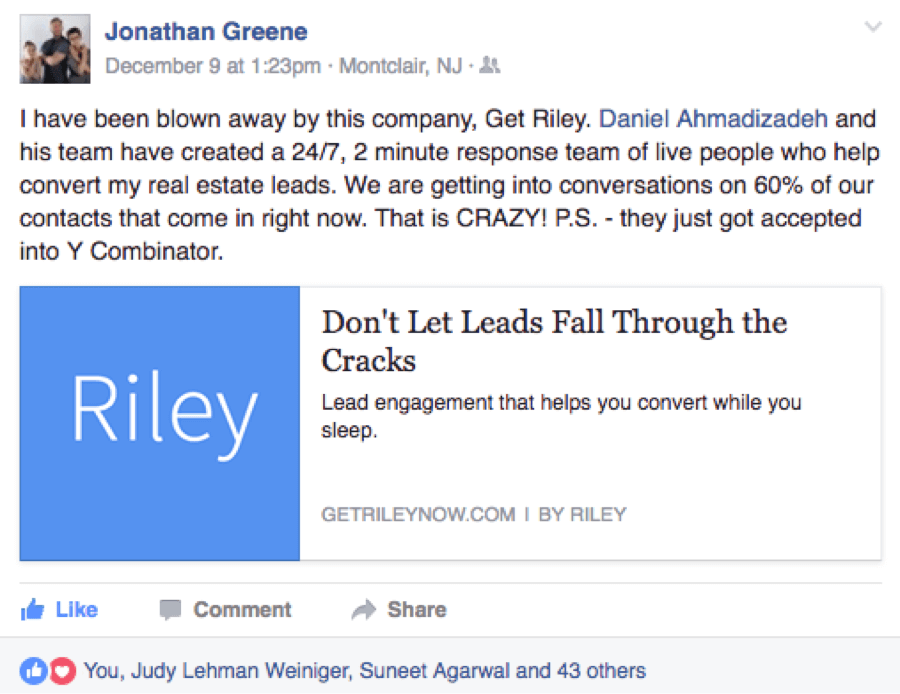 HVL: How much does Riley cost for agents? Is it a subscription? Is there an annual plan?
DA: For agents who sign up before 2017, we have a free two-week trial (no credit card needed), and we have a subscription plan. After the free trial, Riley is $99 per month for an individual agent, $299 per month for a team of up to 4 agents and custom pricing for larger teams. It's important to note that there is no contract, and we're 100 percent human-powered. More information can be found on our pricing page.