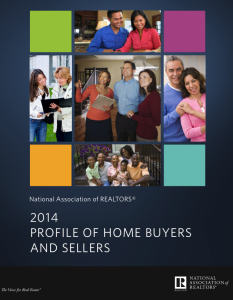 At NAR Annual this past weekend, the National Association of REALTORS released its 2014 Profile of Home Buyers and Sellers report, highlighting key demographics and reasonings behind the residential real estate transactions of the past year. This gives us a glimpse into what the average person did, who the average person was, and how the average person went about their home purchase or sale. This type of data is important to gauge not only where we were last year, but some insight into where we might be headed. It also gives us an idea where we may best spend our marketing dollars and who we should be targeting.We published a summary of the demographics of a prime seller lead last week. Here are some of the highlights from the buyer's portion of the NAR 2014 Profile of Home Buyers and Sellers.
NAR Profile of Home Buyers
First Time Homebuyers
The report indicates that tightened lender requirements has resulted in a lower percentage of first time home buyers than in the past. Only 33% of 2014 home buyers were first timers, compared to a historical average of 40% and down from a high of 50% in 2010 when the First Time Homebuyer tax credit was available. About half of first time homebuyers were married couples, 15% were unmarried couples, 18% were single females, and 11% were single males. Nearly two-thirds (63%) of first time homebuyers had no children living in the household. 56% of first time homebuyers were between the ages of 24 and 34 years of age. Surprisingly, the 18 to 24 year old age group made up 9% of all first time homebuyer transactions. The median age of the first time homebuyer was 31 years old. The 2014 Profile of Home Buyers and Sellers also tells us that the median household income of a time homebuyer was only $68,300, with the primary reason for purchasing a home simply because they wanted to own a home of their own (53%) with affordability coming in a distant second at 8%.
Repeat Homebuyers
As you could imagine, the NAR 2014 Profile of Home Buyers and Sellers gave a fairly different picture of repeat homebuyers. The median age of a repeat homebuyer was 53 years old according to the report, a fairly even distribution between age groups. Repeat buyers tended to be married couples (70%), although 66% had no children under the age of 18 living in the household. Repeat homebuyers also tended to have a much higher household income at $95,000 per year. Reasons for repeat homebuyers were much more diverse with job related moves topping the list at 12%, desire for a better area at 11%, desire for a larger home at 10%, and a change in family situation at 9%.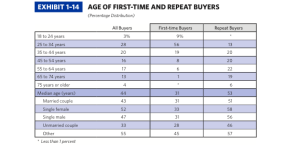 All Homebuyers
When asked what the primary reason for purchasing a home last year, 48% of buyers indicated that it was "just the right time" to buy a home. Another 19% indicated that they didn't have much choice and had to purchase a home when they did, and 21% of respondents indicated that it was the best time because of low home prices (11%) or because of the low mortgage rates (10%). Nearly 4 our of 5 home buyers only owned the current home the just purchased, although 10% also had investment properties. Another 5% of homebuyers still owned their current home and were in the process of selling it.
Characteristics of Homes Being Purchased
So now that we know a little bit about the people behind the purchases, the NAR 2014 Profile of Home Buyers and Sellers also breaks down some of the important characteristics of the home.
84% of homes purchased were resale, with only 16% being new construction. These numbers have remained fairly consistent since 2009 and are most likely caused by a lack of inventory from builders rather than a lack of desire on the part of consumers. For those who purchased a resale home, 32% indicated they went with resale because of better prices and another 32% said that they were a better value. For those that purchased new construction, 40% indicated that they purchased to avoid costly renovations and problems with plumbing or electricity, 24% preferred the ability to choose and customize the features of their home. Ironically, 10% indicated that they purchased new construction because of a shortage of resale homes, while 9% of resale buyers indicated that they purchased a resale home because of lack of availability of new construction properties.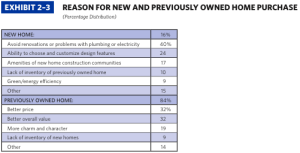 79% of homes purchased during 2014 were detached single family residences, with the average homebuyer only moving 12 miles from their previous residence. The most important reasons for choosing the location for their new home were the quality of the neighborhood (69%), convenience to work (52%), affordability of the home (47%), and convenience to family and friends (43%). Despite the increased interests and use of mass transit, convenience to public transportation was only indicated by 8% of respondents, with convenience to the airport checking in at 7%.
The median sales price of home purchases was $216,000. 34% of homes purchased were between $100,000 and $200,000 with another 24% between $200,000 and $300,000. Less than 10% of homes purchased were over $500,000. As would be expected, new construction properties were priced significantly higher at a median price of $277,200, while resale properties had a median price of $200,000. The median home price for a first time homebuyer was $169,000, while repeat buyers were nearly 50% higher at $240,000. With the decreasing inventory seen in many areas of the United States, 38% of all homes were purchased at or above list price. 36% sold for between 95% and 99% of list price, 16% of homes sold for between 90-94% of list price, and 10% of homes sold for less than 90% of list price.
The median home that was purchased over the past year cost $216,000, was 1870 sq. ft. in size, 3 bedrooms, 2 bathrooms and was built in 1993.
The Home Search Process
A statistic that doesn't surprise anyone: 92% of home buyers used the internet at some point during their home buying process, with 43% using the internet to look at properties as their first step. First time homebuyers are more likely to search for information about the home buying process to being while repeat buyers jump straight into looking at properties online. The initial search varies by age, with older home buyers being more likely to drive through neighborhoods or contact an agent directly. Interestingly, buyers between 18 and 24 years of age are actually most likely to ask their friends or relatives about the home buying process compared to any other age group.
Mobile technology is now outpacing open houses and yard signs as information sources for home buyers.
Mobile or tablet websites and applications were used by 50% of buyers, while yard signs were only used by 48% of buyers and open houses by 44%, indicating that mobile technology is now outpacing these two traditional methods as a go-to source for information. Buyers typically viewed 10 homes before finding a home to purchase, and this search took about 10 weeks, although the average buyer waited 2 weeks looking on their own before contacting an agent. 43% of homebuyers indicated that they found their home on the internet, up drastically from 2001 where only 8% found their home online. The real estate agent remains the second most common source of information at 33%, although this number has been in steady decline.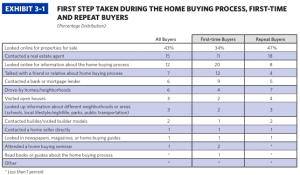 When it comes to buy frustration, finding the right home was on the list of 53% of homebuyers. 24% were frustrated by the paperwork, and 16% were frustrated because they did not understand the process or the steps involved. Despite these frustrations, 56% of homebuyers indicated that they were very satisfied with the home buying process and another 33% were somewhat satisfied. Only 12% of homebuyers were somewhat to very dissatisfied.
It is important to keep in mind that the NAR 2014 Profile of Home Buyers and Sellers looks at real estate on a national level. In some areas of the report, it does break the statistics down by region (Northeast, Midwest, South, and West), but not by metro area or even by state. Real estate is a local business and it is important to know the statistics and demographics of your own area to really pinpoint where you should focus, but the 2014 Profile of Home Buyers and Sellers can certainly give you a great overview and a place to being your research. Make sure to check out our review of the NAR statistics that make up the prime seller leads you are looking for. We will dive deeper into the client/agent relationship later this week.