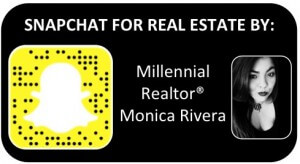 Are you still confused about how Snapchat works, let alone how it can work for your real estate business? You're not alone. Many agents hear about the cool things you can do with it to attract leads and hold the interest of potential sellers and buyers but are not too sure how to use it or how it even works.
We asked different agents with different experiences to explain how they use Snapchat and about the success they have seen. The response was awesome, and we couldn't have asked for a more varied group. Hopefully, you feel more comfortable incorporating this unique social media platform into your real estate marketing strategy and can tailor it to your business.
In our first post in our series on Snapchat, we highlight one Realtor®, who is not only experienced in this social media platform popular amongst Millennials, she is a MillennialRealtor®. Plus, she markets directly to them (check out her website – amazing!). You can't get more thorough than that, so we thought we would start off strong.
Here is our interview with Monica Rivera of Keller Williams in Downey, California and her lowdown on Snapchat.
What Do You Post and How Do You Use It?
"Because the content disappears in 24 hours, it's an amazing way to offer a level of exclusivity not available on many other platforms. That's something I take advantage of in my real estate business. Sneak peaks of new listings before they hit the market has generated the highest response rate for me in terms of new leads."
Has It Been Successful for You?
"Snapchat is a great to stay top-of-mind with my sphere of influence and adds a humanistic element because I include snaps from my daily life in addition to real estate-related content.
"It's also a great way to generate engagement from users as long as you respond to every direct message, screenshot or replay."
Did It Take Long for You to Adapt to and How Does It Compare to Other Social Media? 
"Pre-getting into real estate, I was already using Snapchat daily so incorporating it into my marketing was a no-brainer.
"I'm looking to take advantage of the custom geo-filters next by having them at my open houses and even at hot restaurants in my farm area to get exposure to the followers of those who use them. It's not just about selling… it's about being top-of-mind and relevant."
Key Takeaways from Monica Rivera:
Snapchat offers exclusivity to those who follow you.
Snapchat offers sneak peeks into listings before they go public.
Snapchat helps you stay top of mind with leads and future clients.
Snapchat allows you to stay engaged with leads.
Include snaps from your daily life to connect more personally with leads.
Geo-filters add a dimension to your open houses and hot spots in the area.
PS – We can't help but talk a little bit more about Monica's website, so be sure to check it out. We hope to do a future interview with her further digging into her marketing efforts with Millennials.
Check out our other two posts in the series as we interview a specialty condo and ultra-luxury real estate agent as well as an agent who has some experience in marketing.