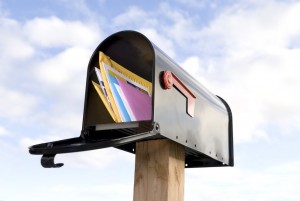 Every real estate agent has at one time employed the use of real estate postcards to help market his or her business. With all of the technology and virtuality at your disposal, postcards may seem too old school to include in your marketing arsenal. But a closer look reveals that a little creativity will help yours stand out and keep you and your services top of mind with your audience.
Instead of keeping to the same old-same old with your real estate postcards, try something different. Include information that leads will love and keep those precious postcards from being thrown immediately into the recycling bin.
Real Estate Postcards with Game Schedules
It's football, basketball, soccer or baseball season at any given time of the year. Especially if you have teams that appeal to a greater audience, including a game schedule is a fun and helpful way to keep your postcard alive.
How do you go about creating these intricate schedules? You don't – you order them! A simple Google search for "football schedule postcards", for example, will generate hundreds of listings of companies who can provide these to you at a low cost. You simply choose your team and select a design that reflects your real estate business branding. It's really as easy as that.
Learn how to get seller leads with our home valuation landing pages
Distribute these postcards by mail, at open houses or anywhere and to anyone you come in contact with. Start early, preferably before your team's season starts, in order to get the most play (excuse the pun).
Real Estate Postcards with Great Advice
This is a really relevant way to go and shows that you are a resource for your clients. We've mentioned before about writing blog posts or social media posts that dole out advice. Make a "Top Ten" list on virtually any subject to keep your postcard more than just an advertisement.
Some really useful advice to share can be seasonal or general. Topics include:
Gardening tips
Top places to hike, bike or run
A food mood board with select restaurants
Seasonal home preparation guide
Real Estate Postcards with Recipes
Who doesn't love to eat and collect recipe cards? With fall, for example, you have so many opportunities to help your audience prepare dishes for their favorite holiday meals, it can difficult to choose your favorites.
You can go about this in a few ways.
List just one favorite recipe for the holiday. Include ingredients and instructions.
List multiple recipes and then point to your website for the full recipes.
Create a booklet instead with full recipes.
People love to get these and oftentimes keep them along with their other recipe books.
No matter what your personal interests are, you can find a postcard to match. What can you come up with to make your next real estate postcard stand out?