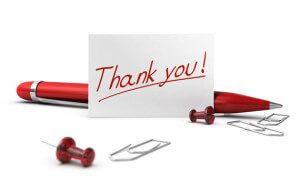 In our last post, we heard from Kelli Higgins, a real estate agent in Topeka, Kansas. In her first full year of business, she enjoyed a 2,087 percent ROI from using Home Value Leads.
Kelli generously shared her other tips for success, which helped her gain $4.8 million in business to-date. One of these proven marketing techniques is as simple as it is effective – thank you cards to her leads. By sending a personable, handwritten note to each Home Value Lead prospect, she has gained two awesome listings. Here's a breakdown of why it works so well.
Handwritten Notes are Awesomely Old School
When was the last time you received an actual, handwritten note from someone, ANYone? Still thinking? That's exactly the thinking behind this method of follow-up.
From the envelope to the actual card, no matter your penmanship, leads will appreciate the time you take to think about and pen something. It makes you real and human.
If you think it won't work for you, consider that one of Kelli's handwritten notes garnered her a listing within two weeks of her sending it. The lead was so impressed with Kelli's personable approach, that they felt she'd be great to work with.
Make Handwritten Notes Stand Out
Kelli likes to use super bright note cards with matching envelopes. Imagine a lead getting a hot pink or aqua blue envelope amidst a pile of white. You can bet, especially with the handwritten address, that it will get opened.
You can purchase inexpensive, plain note card sets from stores like Target, as Kelli does. You may be asking, what about my brand? Part of the branding of a plain set of note cards is the personal touch you give it with your custom message and inked note.
Nothing Like a Real Stamp
Instead of using metered postage, use a real stamp. Your card won't seem as if it's one of hundreds you send out (though it very well could be). You can even pick out one that expresses your personal style or mirrors the current season or holiday for extra flair.
Don't Forget to Add Your HVL URL
If you use Home Value Leads and the lead came from your HVL website, then it's important, Kelli says, to include that in your note. Doing so helps distinguish how you first connected with the lead. It also makes the lead "warm," making it easier to offer your services to help list their home.
Kelli again reiterates that it may seem like a lot of effort to send out personal, handwritten notes to leads. As you can see from her results, however, that investment in time could reap big rewards and help you build a more trustworthy and friendly brand.