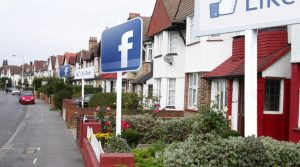 If you're an avid user of Facebook, then you've no doubt come across its Marketplace feature. Marketplace is in essence, the Craiglist-esque portion of Facebook where buyers and sellers meet. A variety of items are bought and sold on Marketplace, from household items to cars and more.
According to Facebook, Marketplace has already been a popular way for people to find homes to rent. In fact, it recently partnered with Apartment List and Zumper to increase the number of rentals featured.
Facebook, which touts an active monthly user base of about 2 billion, had recently enhanced their rental listing option to include typical filters like location, bedrooms, bathrooms, price, type, square footage, pet friendliness and photos. So it was only a matter of time before it was ready to jump into real estate listings, directly competing with Redfin, Realtor.com and Zillow, among others.
The rollout is slow, available only in the US and on phones. Listing a home for sale is super easy. The instructions direct from Facebook's online help center:
Tap the Marketplace icon  on your phone.
Tap the What are you listing? field and choose Housing for Rent / Sale.
Choose photos of your listing to upload and tap Next.
Fill out the details for your listing. First, tap either For Rent or For Sale. Then, tap Housing Type to make the right selection. Depending on your selection, you'll include required details like the number of bedrooms and bathrooms and optional details like square footage and pet friendliness. Tap Next when you're done.
Include a location. You can add an address or ZIP code. Tap Next when you're done.
Set the monthly rent or sale price for your listing. Tap Next when you're done.
Describe your listing. Include details like utilities, parking, amenities, any deposits needed and when it's available. Tap Next when you're done.
Choose where you want to post your listing, such as your profile or other buy-and-sell groups on Facebook.
Tap Post when you're done.
Once your listing is posted, people can message you as the agent to learn more. To be clear, using Marketplace for listings is only informational. No transactions for home sales actually take place on the platform.
Marketplace Impact on Real Estate
Listing properties on Marketplace on real estate agents could have nothing but a positive impact on real estate agents. It's a free opportunity to market to an already captive audience. The ease of posting to your personal or business page as well as buy-and-sell groups on Facebook makes it even more attractive.
Facebook shares a few tips that are definitely worth heeding: Good photos that you own, a solid and honest description as well as ensuring no discrimination against a protected class.
Have you posted listings on Facebook's Marketplace yet? What success have you experienced?