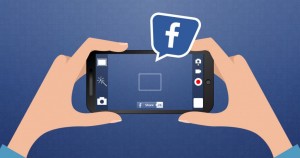 Ready to jump into the live streaming action? Well, since last month, anyone with Facebook can do so easily on their iPhone and, as of late, on their Android phones.
Livestream is a great way to communicate with your Facebook audience and friends in a personal way, but many real estate agents may still be shy to do video let alone live. But some of the cool things you can do with this new app just may change your mind.
How to Use Livestream on Facebook
Here are Facebook's instructions, straight from their website, to get started with their Livestream app.
To start a live broadcast from your personal Timeline:
Log into the Facebook for iOS app or the Facebook for Android app
Tapfrom your News Feed or Timeline
Tap
Write an optional description for your broadcast
Tap Go Live to begin your broadcast
When you want to end your broadcast, tap Finish.
How to Use Livestream for Real Estate
So here's what you've been waiting for: how to use Livestream for your real estate business.
Facebook actually brings Livestream videos to the top of news feeds. So you can feel pretty good that, given a time that you know many of your friends and followers will be checking Facebook, your live video will receive great engagement.
You can see how many people are watching live, receive comments and respond directly, too.
With these cool features, you can let everyone know about a house you just listed as an "exclusive" the minute it gets listed (pending any rules or laws you need to follow for your individual state laws).
You can start building rapport with other real estate agents who have a long list of buyers ready to learn about a new property. You can let them know in advance when you are going to stream live from a property or do an impromptu call to action to schedule showings with you. Simply tag them and answer questions on the spot that come through the comments.
If you want to attract people beyond your network, you can ask people to like your Facebook page then include the date and time that you will be broadcasting live in the description of the property wherever you post it. To go a step further, create a schedule on your website for all properties and create a FB event to invite everyone you know and to encourage them to invite others.
Some softer videos that you can do can be from your day to day or at your office. It's a great way to give a behind-the-scenes look at your operations or to introduce a new member of your team. If you're celebrating something special among your team, you can broadcast that, too, and invite others to join in on your celebration.
Extra Tips for Using Livestream
Broadcasts can only be 30 minutes long.
Save your broadcast on your timeline.
Block certain viewers when you go live and unblock them again as you need to.
What other ways do you plan to use Livestream on Facebook? Leave your comments below or on our Facebook page.