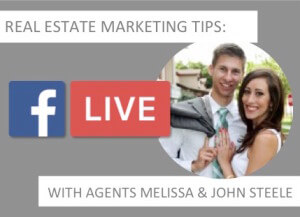 If you are still not convinced that live streaming technology like Facebook Live can help boost your real estate business, then perhaps the success of a husband-wife real estate team will! Melissa and John Steele of Steele San Diego Homes in Southern California jumped onto the video bandwagon earlier this year, adding both Facebook Live and Snapchat to their marketing mix.
The Steeles have generously shared their experience with Facebook Live (including some awesome examples) with us, so we hope that their creativity and marketing prowess encourage you to take the video plunge, too!
What Content Do You Capture with Facebook Live?
"We shoot a Facebook Live video walkthrough for every new listing or open house that we hold. It's a very easy way to get more exposure for a listing.
"We've also done Facebook Live videos talking about our business, our goals, how we work and who we are. We will also do them at different events, such as Real Estate Investor Meetups, where we show homes that are currently under renovation or construction and talk about the process.
"A great example of how we are using Facebook Live can be seen on our most recent listing that hit the market last week. The sellers that we were helping have two dogs and two young children, so showing times were restricted to only open houses. We knew that not everyone would be able to accommodate those showing times, so we shot a Facebook Live walkthrough for the home. We then took the Facebook Live video, uploaded it to YouTube  and included it on our listing. This way people who were unable to view the property in person could still get a good idea of the home's features and layout. At the same time, it was another opportunity for us to market ourselves."
Is Facebook Live an Effective Marketing Tool?
"I think Facebook Live is extremely effective for a few different reasons. One, video is everything these days. A well-done video is going to get exponentially more exposure than your typical text post or image post.
"Two, Facebook loves Facebook Live. Once you start to use it, you realize that Facebook's algorithm promotes live videos. Your Facebook Live video will likely get more exposure and interaction than just uploading a video to Facebook.
"It's also great because users get notified when you are live and even after your video ends, it can still be watched, shared and commented on."
What is Your Process for Using Facebook Live?
"As far as the process we use, it's pretty simple. Facebook Live doesn't have to take too much time or effort. Before you start, you obviously want to have an idea of what you are going to talk about and cover; after that, you just go.
"It's live so there are no retakes or editing. It can actually be one of the quickest and easiest video marketing tools available. Most other video marketing involves scripting and editing, which can be time-consuming."
How Do You Measure the ROI from Facebook Live?
"I would say that measuring ROI can be a bit difficult. We have not incorporated any call to actions that we would be able to directly attribute to a lead or sale. However, we will likely be looking for ways to do this in the future.
"With that said, Facebook Live is 100 percent free, so, really, you're not investing anything but a few minutes of your time. We have experimented with boosting Facebook Live videos and have had people come through open houses because of them.
"We are still constantly experimenting with what works and what doesn't. My advice to agents who are considering implementing Facebook Live videos into their business and marketing would be to just start. Don't spend too much time overthinking everything. The first few times are the hardest when you are putting yourself out there for everyone to see and comment on. You will get more comfortable and natural the more you do it."
Want to check out a few of the Facebook Live videos that the Steele's have done? Click on any link below to view or visit their Facebook page.