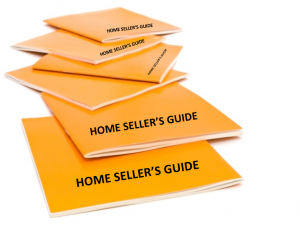 Have you ever thought of giving out a home seller's guide? Home sellers are always looking for great advice on how to sell their homes. In today's content-driven world, doling out advice can be a great way to generate leads and attract prospective sellers to your real estate business.
What is a Home Seller's Guide
A home seller's guide is simply a document you put together electronically or in print that provides a resource for home sellers on every or most of the transaction process. Think of it as a how-to for selling a home. It's a great way to showcase your expertise, provide something valuable to prospective clients and put yourself top-of-mind as a go-to real estate agent in your area.
How to Create a Home Seller's Guide
If you don't have the creative skills it takes to put together an attractive guide, enlist the help of outsourced designers online. It's an inexpensive way to put together a good-looking document that will lend credibility to your information. Websites like fiverr.com have a plethora of low-cost designers who can design your guide in a short period of time. Just be sure to ask for samples of their work beforehand.
Collect the information for your guide based on questions you know home sellers often ask you during the home selling process or that you know they should know. It doesn't have to be too technical, just the basics is all you need to help ease them into the concept of selling their home and, later, asking directly for your services to continue the more arduous and detailed process after. Some areas to cover include staging a home, strategies for setting a price, marketing a home, showing a home, negotiating and leading them into finalizing the process (which is where you'd be especially helpful for them, so don't give away too many of your secrets!
And don't worry, your guide doesn't have to be 100 pages. A page for each section of your guide will work perfectly, front and back. Also, be sure someone who is good with writing does a run-through of your book to check for spelling, punctuation and grammar mistakes.
Keep the information organized in section, include a table of contents and provide lots of attractive stock photos. Photodune.net has thousands of great photos taken by professional photographers that cost as low as $1 to purchase (and you can use the photos again for blogposts, social media or other collateral and marketing tools).
TEMPLATES: Hubspot has a number of fabulous e-book templates that can help you get started creating your home seller's guide.
Where to Provide Your Home Seller's Guide
Now that you have a great guide chock-full of helpful content, it's time to send it out into the world. Here are a few ways you can give away your guide that will help you capture leads and put it in the right hands:
Email it out to your newsletter list
Offer it as an incentive for signing up for your newsletter
Provide it on social media for your followers and encourage them to share it
Print and mail it out to your mailing list
Print and hand out at events or open houses
A home seller's guide is a great way to provide useful content and encourage potential sellers to not only consider selling their homes but also establish your expertise in the area as a trusted real estate agent. Give it a try and let us know how you put your guide together and what's worked for you!