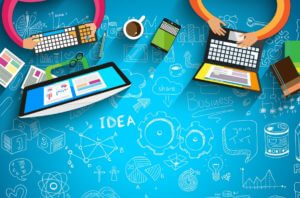 Most of us are visual people. We like to "see" a story or consume data in graphical ways that are appealing and easy to digest. That's probably why infographics have become a popular medium for sharing information in recent years.
Infographics are a growing, popular way to understand real estate information, too. Whether you are sharing stats or steps in a process, infographics are a great way to repurpose information. You can use data from reports that you already generate or tell a story about your business.
Creating infographics a few times a year can help make you a go-to local real estate expert. Here are a few examples of infographics you can create and how to share them.
Local Market Statistics
Studies show that we only take a few seconds to peruse something before deciding whether or not to keep reading. So creating a beautiful report with images and infographics is the way to get them engaged. Focus on one specific topic so you can create more reports from a wealth of information.
Learn how to get seller leads with our home valuation landing pages
Much of the information found online lacks local data and is only found with your access to the MLS, for example. Dig into those numbers and share it. For example, what is the market history for your particular area or even a neighborhood you serve?
You can develop a beautiful and clear graph that shows the changes in that specific target area. Comparisons from year to year, especially that show a positive change, can entice homeowners to consider selling their property more quickly. When they see how houses have sold five years ago versus the median price today, they'll get a better picture of how much their home can sell.
Buyer activity is an interesting pool of real estate data that most people overlook. Seeing appointments made versus how many sales are pending can better illustrate to potential buyers just how hot the market is and that the particular type of property they are looking for may slip through their hands if they don't act.
Buying or Selling Process
The real estate process can be a daunting one for many people. The complexities of transactions can overwhelm even the most seasoned buyers and sellers. First-time buyers and sellers, especially, need extra guidance.
An infographic that would be of most help to prospective clients is one on either the buying or selling process. Showing a diagram outlining the flow of each step with attractive icons or graphics can help make the process more palatable. What's more, a timeline can help set clearer expectations for clients.
Your Farm
An infographic can also provide a geographical interpretation of your work. If you have a specific farm, then you could take a map one step further and include fun and educational facts about amenities and hot spots.
You can also overlay statistics about your farm. In essence, your infographic would be a combination of a local map and a market report.
A farm infographic could also include the latest listings. Update these often, and you'll have a frequent infographic that is easy to use throughout the year.
Distributing Infographics
Use any and every medium to distribute your infographics. If you plan to mail information to clients, include relevant infographics. Social media and newsletters are, of course, one of the best and most prolific ways to distribute them.