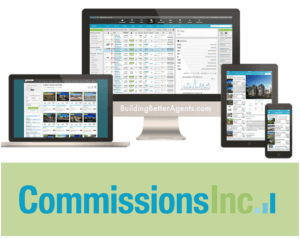 We've seen a lot of different CRM systems that real estate agents love in our time. A useful CRM system helps manage leads, funnel prospects and converts them successfully.
One Realtor Erik Brown of Teles Properties, who has sold hundreds of properties in multiple states including Minnesota and California and is the author if the book 1 in a Million, tested a number of different CRM systems and landed on one that has worked for him and his team for the past four years: Commissions, Inc.
Better than the Rest
Brown and his team are no stranger to using technology to handle leads. They've tried Top Producer, Movoto, Home Again and House Values. Commissions, Inc., stuck with them for so many reasons, among them, the ability to reach out to far more people on a consistent basis with positive results.
As a team tool, Commissions, Inc., keeps agents on tasks, letting them know what tasks and follow-up items are needed to move a lead along. The reporting is a major plus, too, as it touts two benefits. One benefit is team building. Show other agents whom you are trying to recruit your pipeline of business. Another benefit is total business tracking throughout the sales cycle.
Learn how to get seller leads with our home valuation landing pages
Worth the Effort
"It takes some effort to master, but once you do, the format is a powerful tool," notes Brown.
The support appears to be second to none as is the daily help Brown receives as needed. Training includes online tools, recorded and live webinars and even in-person help. Brown flew to Atlanta.
Top Five Features of Commissions, Inc.
Five features stand out to Brown and his team that make Commissions, Inc., worth checking out for any real estate team.
Team Structure – Organize the agents on your team, track their efforts and keep them all accountable to a standard of activity.
Tracking Efforts – A wide range of tracking abounds within the system that matter most to real estate teams: number of calls, emails, texts; rates of calls to reach, reach to appointment, appointment to client conversion; and number of attempts to connect with a lead.
Viewing Client Interactions – Follow every note, call, text, social media interaction, drip campaign, received letter and more for each lead and client in real time. It's a great CRM to capture all efforts your team members make across all contacts.
MLS access
Mobile – Because you will likely use the the app almost daily, as Brown does, you'll need something that works like a portable database and follow-up manager. Commissions, Inc., helps you do this on the go.
Expand and Accelerate Your Reach
As with most businesses that have a lead management cycle, real estate requires contact and follow-up on a regular and timely basis.
Brown and his team have more than 10,000 records categorized in Commissions, Inc. That's a lot to manage. Other platforms just could not handle Brown's team's contacts as efficiently.
"You can automate emails and texts and incorporate with other lead systems outside of [Commissions, Inc.] to import those leads into [the system]," explains Brown. "It is a blueprint for efficiency. They even have reports to quartile types of leads."
Success
Just how successful can an agent be with Commissions, Inc.? One need only look at what Brown has attained with it. According to him, he had his first multi-million dollar closing and attributes that win to the system.
If you're looking for a new CRM platform and have tried everything as Brown and his team have, you may want to consider Commissions, Inc. Brown has two platforms to cover his Minnesota and California offices. Pricing is around $1500 for the platform and $500 for SEO/PPC features.