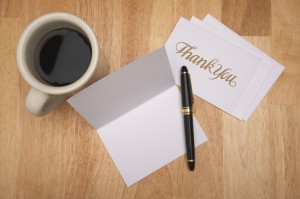 With all of the technology and devices out there to help make your life as a real estate agent easier, pen and paper can seem old school an archaic. But nothing can bring a more personal touch to your relationship with a client than a good old-fashioned thank you note.
A thank you note breaks up the monotony of emails and other digital communications between you and clients. In an industry where so much is done online and automation is lauded, a handwritten note draws more attention and solidifies your relationship with leads and clients much more. You can bet many agents aren't sending as many thank you notes as they should!
A Thank You Note for Different Occasions
You may think that the only time a thank you note is appropriate is at the close of escrow. While this is certainly true, you have many opportunities as a real estate agent to send multiple notes to your clients.
Listing Presentation – The lead took the time to listen to you and deserves recognition for that. It's a great time to also include an offer to answer further questions, building on your relationship.
New Listing – You've passed the listing presentation and landed the client. Good for you! Show your excitement to help them at this stage and, again, let them know that you are available any time for questions or advice.
Showing – You might not send one to a buyer after every showing but after you have a solid block of time during which you showed him or her numerous homes.
Close of Escrow – This is an obvious one, but definitely one worth mentioning. If anything, it just shows how it is just one of many times to send a note.
One-Year Anniversary – This should be part of your follow-up strategy. However, instead of an email, why not send a nice note?
Referrals – This may seem like another obvious one, but it bears repeating. If someone sends you a referral, no matter how small or whether it works out, they deserve a personalized thanks.
Client Appreciation Event – You are showing your gratitude for your clients' business, and it shouldn't end there. Thank your clients with a note for attending and mention anything you might remember from your conversation (i.e. an update they gave you, etc.).
Anatomy of a Thank You Note
Some agents hesitate to send out handwritten notes because they just don't know what to say. Don't let that stop you, though. You don't have to be too formal or write prose that deserves refrigerator time. Just keep it simple and meaningful.
A good thank you note starts off with the date and a greeting. A simple "Dear ___," will do.
For the body, start off with what you are thankful for. "Thank you so much for…" The next sentence should mention what has been or will be done or how you feel. "Thank you so much for trusting me to list your home. I am excited to get started and to help your family with this important milestone."
You can also start off with, "It was so great to see you at the client appreciation party on Sunday" after an event or "Congratulations on your one-year anniversary in your home!" The thank you would then come after, thanking them for coming to the event or for being a valued client.
Thereafter, you can mention something extra, but it is not always necessary. Usually, this is something personal that you remembered from your conversation or meeting that is relevant to the topic at hand. It can be a simple, "I look forward to working with you."
You can then end with a follow up. "If you have any questions, please don't hesitate to call or email me any time."
Then end with "Sincerely," and your name.
Make sure you actually handwrite your notes and write them on a nice notecard that can be branded with your logo or a beautiful photograph.
As you can see, different notes will shift these pieces around a bit, but the gist is this: be direct, be sincere and be you.