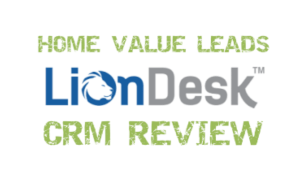 It seems these days that CRM systems for real estate agents are a dime a dozen. Many promise to do this or that to help agents become more efficient. They also tout more and more features that many agents once dreamed about so they have everything they need in one system. We recently came across LionDesk, which seems to capture both the needs and wants of agents. Check it out and see if it will work for you!
About LionDesk
At the heart of LionDesk's mission is closing more deals. Their goal is to provide all the tools an agent needs in order to have more client time and less logistical time preparing for or it. It seems that they are oriented toward listening to what their clients want and need, as you'll see in the many features they offer.
We believe that we can make you better at your profession by creating tools to help you become more efficient with your time and to close more sales.
LionDesk Features: The Basics
Every good CRM should help you manage contacts, track results and manage tasks. These are all covered by LionDesk's robust system.
Contact Management – Having contacts is the bread and butter of every agent's business, but managing them can sometimes be a pain in the you-know-what. One of the cool features that LionDesk has in regards to this is the ability to tag contacts in a few ways. You can tag them by how "hot" or "cold" a contact or lead is in its own column as well as by specific tags you designate yourself. This can be helpful when you need to send out specific email or drip campaigns. Plus, you can set an unlimited number of tags that you can filter through as needed.
Track Email Results – Instead of having a separate email system, you can do all of your email marketing through LionDesk. Streamlined reporting lets you see how many you've sent weekly or monthly dates you've sent campaigns, which campaigns you've sent and any details regarding clicks, open rates, bounces, rejected emails and those considered spam. This is super helpful to help you clean up lists, determine who is receiving your campaigns and responding and to know which campaigns are working the best for you.
Enhanced Drip Campaigns – This is a great feature that LionDesk not only offers with email but also with text and phone calls. (We know that this is a HUGE contact management concern for many Home Value Leads clients!) You can organize your drip campaigns into specific buckets then within those buckets create your drip emails, texts or phone calls easily. The dashboard for this is clean and user-friendly so there's no question how to edit or delete them, too.
Calendar/Task Management – With so much going on in any given day for busy agents, it can often be difficult to remember who to call and for what. LionDesk's calendar and task management feature takes the guesswork out and provides a handy calendar view for your tasks and events. It even sends you reminders so you don't have to check your lists or calendars – you just wait for it to alert you.
Deal and Pipeline Management – Wouldn't it be nice to be able to see your business is on any given day as well as by client? LionDesk actually does this well by showing individual deals as well as deals rolled up by total in your pipeline, new deals, those in escrow and deals you've won.
Property Manager – Once you have your listings in place, it's important to manage them properly. There are a lot of to-do's that come with them! LionDesk allows you to follow each listing so that you can manage tasks, deadlines and other details specific to each property. Enter your properties and track your closings. Automate your tasks, manage deadlines and don't let anything slip through the cracks.
Document Management – Real estate is a document-heavy business, so keeping all of your paperwork together in a manageable order can be difficult. Instead of accessing them outside of your CRM, LionDesk lets you upload anything from listing presentations, CMA's and  other important prospecting documents to its system and adding them to specific contacts so you know who received what.
LionDesk Features: The Extras
You probably can't really call them "extras" since they come with the program, but these features are certainly ones we have heard agents wanting time and time again with their CRMs. These mostly have to do with lead management and follow-up – two areas that we know can be a challenge!
Learn how to get seller leads with our home valuation landing pages
Auto Responders – It can be easy to miss a call or email as you attend numerous listing meetings or showings, take phone calls or otherwise have a life. Auto responders are key to making sure you don't miss a lead, and LionDesk offers phone, text and email messages to help you keep up.
Third Party Lead Imports – You probably (and should!) receive leads from multiple sources. Instead of manually entering them from places like Zillow, Trulia and Realtor.com, you can actually have them imported directly into your LionDesk system.
Click to Call – Dialing numbers is so 2015. 🙂 Instead of entering ten digits every time, just click through your CRM and make calls faster and more accurately. Plus, you can track details for each contact so you don't have to remember what you discussed when or at what stage you are at with a lead.
Power Dialer – A related function, Power Dialer actually gives you a quick list of calls to make so you can, well, power through a list without opening each contact.
Texting Manager – This is a HUGE one for many of you – texting. With this feature, you can see who you've texted, when and your messages straight from your computer.
Text-to-Sell – This is a pretty cool feature we'd be interested to learn from you out there who have used it. Share information with leads from signs, flyers and other offline marketing tools with a specific text code for each property to a localized number.
Broker Functions – If you have a team, then LionDesk seems to have everything for Brokers, too. You can see every detail from a global view of your team's activities, leads and status as well as push out templates for drip campaigns, for example.
Lead Distribution – And, finally, how to dole out leads. Again, teams can enjoy how this CRM parses out leads based on certain parameters such as individual performance or ZIP codes.
All in all, LionDesk seems to offer everything under the sun that we've heard agents wish they could have in their CRM system as well as the basics. In addition, it seems to take care of everything an for individuals as well as teams.
Have you used LionDesk? We'd love to hear why you love it or what opportunities with the system you've experienced. Let us know on our Facebook page!