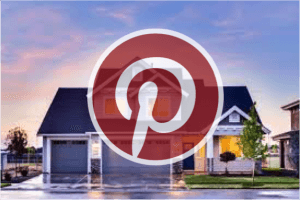 As a real estate agent, you may be more interested in social media platforms like Facebook, Instagram and even Twitter. But if you'd like to reach a strong demographic of women and a growing number of men, then you should definitely consider Pinterest!
What is Pinterest?
Pinterest is a social media platform that lets users create collections of images on what they call Pinboards. These pinboards can be organized any way that they creator desires and serves as inspiration for not only the creator but also any Pinterest user who finds it. The Pins, or the images you post, allow you to provide descriptions and links to give some context to them.
How Does Pinterest Work?
Users find your pins via searches they conduct or recommendations made to them by Pinterest. This is why your description should contain strong keywords that relate to what people are searching, as well as hashtags.
On the search bar, you'll see a plus sign icon. This includes three options: add a pin from a website, upload a pin from your computer and create an ad. From there, you can add that pin to a new board that you create at that point or add it to an existing board.
The talk bubble icon to the right of this is a vital communication tool between you and your users as well as a tool to keep up with the latest trending pins.
News: This is a great tab to learn what is most popular on the platform. Based on your activity and boards, Pinterest knows what you may like – and may like to re-pin to your own boards!
You: This tab shows you re-pins of your pins, comments made on your boards or pins and other activity.
Messages: Messages are private messages from other users. Super vital to communicate with potential leads on your boards!
Get a Pinterest Business Account
You may already have a Pinterest personal account. If so, then great! You are ahead of the game in terms of knowing how to use it.
However, we definitely recommend creating a business account for your real estate business. By creating a Pinterest business account, you have access to analytics and ad creation.
Making Pinterest Work for Your Real Estate Business
So, now that you have the basics of Pinterest, how do you make it work for your real estate business? It's all about pins and boards.
You'll want to create boards that reflect the specific niche you focus on, if you have one. For example, if you sell condos primarily, you can have different boards like:
Maximizing Small Spaces
Small Space Furniture Ideas
Balcony Gardening Tips
Just get creative! What would someone who has a condo want to know?
Your pins don't have to be just images, too. They can be fun memes or quotes. What about using one of your carefully crafted infographics?
If you want to get super creative, then you can also create boards highlighting your life as a real estate agent. Again, get creative!
Listings on Pinterest
So where do your listings come into play on Pinterest? You can feature a particular listing and pin images of decor, yards and, of course, the house itself. A wonderful addition to your pin boards for a listing include features that make the property special. Get granular by showcasing the siding, columns, decking and more.
You don't have to limit your listing images to its own board, however. What may be easier in many cases is to pin the listing to a specific board you create based on its type (mid-century modern, traditional, etc.).