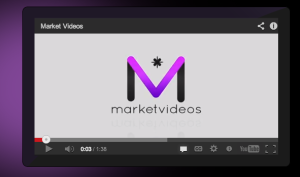 Video has quickly become a hot topic for real estate agents. According to some statistics, 85% of buyers and sellers want to work with an agent who uses video. If you are looking for a great video tool to help you generate more real estate leads at a reasonable cost, then you've come to the right place. I've been testing our several products to allow me to easily incorporate videos into my real estate marketing plan and have found one that has a lot of potential, so I'd like to share my MarketVideos review with you here today.
MarketVideos by vScreen offers personally branded videos that provide local real estate data and statistics that will be valuable to your current and future clients. You can share your MarketVideos profile page directly, export the videos to upload to YouTube, embed the video into your website, or create a newsletter to share your video. What does the MarketVideos product look like?
MarketVideos Sample
As you can see, MarketVideos reviews the local data in a way that is easy to understand and digest for your clients. The videos are exactly 1 minute long, so your clients won't grow bored half way through. In addition to the local data, MarketVideos also adds four real estate advice videos to your
personal profile page
. Videos that are located on your personal profile page or those that you embed will automatically be updated on the 6th of every month, so your content will always be up to date.
<h2)MarketVideos Pricing
MarketVideos allows you to have 1 video per month for $29, or 5 videos for $49 and allow you to cover more areas. They also have brokerage plans that can provide you up to 50 market videos.
Learn how to get seller leads with our home valuation landing pages
Our MarketVideos review has shown that their product is an affordable way to jump into the real estate video market with valuable data and a professional appearance that is branded just for you. Have you ever tried MarketVideos or any other similar service? Please provide your review below!