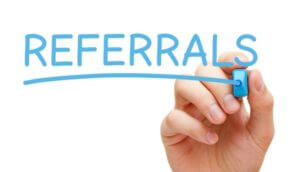 Referrals are an easy lead source for any real estate agent.
Agents have a number of ways at their disposal to drum up real estate leads. Some may take minutes to set up while others take a little more time and investment to see results.
As a real estate agent, referrals can come from both clients and other agents. In this post, we are going to discuss three ways to source agents referrals.
Why would a real estate agent need referrals from other agents (or, better yet, why would another agent want to give up a lead)? For starters, many people relocate from one area, city or state to another.
Learn how to get seller leads with our home valuation landing pages
If an agent specializes in a particular type of property, then this would also be a great referral opportunity. If an agent is out of commission for a while, then they would want to have a few go-to agents, even in their own farm, to refer their leads.
Private Facebook Groups
Are you a member of Home Value Leads? With your subscription comes access to our secret Facebook group. This is a wonderful opportunity to connect with hundreds of agents across the country who are open and ready to trade referrals.
If you are a part of a group, secret or not, on Facebook or another social media platform, take advantage of the network. If you're not sure whether agent referrals are allowed or have yet to see someone mention it, then start the conversation.
Some rules to follow or establish:
Make sure everyone knows that referrals are okay.
Allow only someone to offer referrals rather than every agent on the page offering, cluttering up the page.
The agent who is offering the referral has every right to choose with whom they will work.
ReferralExchange
Where there's a need, there is an app or website for that. Referrals for real estate agents are no exception. ReferralExchange is a referral lead source for agents across the country. They currently have more than 20,000 agents covering the entire U.S., so there is always an agent in at least every major market to connect leads with. The huge benefit is that, once you are included in the database of available agents, the team at ReferralExchange service team will make the initial connections, which are based on their proprietary software.
It's pretty exclusive, as only the top agents are accepted for membership, but doesn't hurt to try! At the very least, it's a great opportunity to shoot for. For more info on their selection process, check out their "How We Do It" page.
Network, Network, Network
This may take the most time to cultivate, but creating your own network of agents or networking is a solid way to go. If you are part of a larger brokerage, attending regional or national events is a great way to connect with agents in other areas and states. You can also attend other real estate events on a local or state level (seminars, for example, or conferences) to meet and add other agents.
Make it an intention to build your agent referral network when attending events. Don't be afraid to discuss the possibility with those you meet. And make sure you have a strong idea of what your referral process looks like to increase your chances of other agents jumping on board.