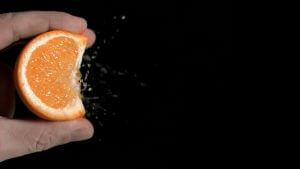 The phrase "squeeze page" doesn't sound like it would be something that a real estate agent could use in his or her marketing toolkit.
However, if you want more seller leads and to get real estate leads from email addresses, then it is an absolute must!
What is a Squeeze Page?
You've seen squeeze pages but probably just never noticed them for what they are.
Squeeze pages are landing pages on your website that are designed solely to capture email addresses from visitors to your site. In essence, you are trying to "squeeze" the information from a potential lead.
Learn how to get seller leads with our home valuation landing pages
You may be wondering how this is different from what you already do with your website. Your email marketing software provides a snippet, for example, where you can ask for emails on any page on your website.
The difference between that and a squeeze page is that your squeeze page will revolve exclusively on getting that information. It's more persuasive and will have a direct call to action.
The Anatomy of a Good Squeeze Page
For your squeeze page to be effective, you have to be succinct and to the point. Too much information will dilute your message and probably make visitors leave.
Start with a good headline/title. This can be as simple as "Get Your Free Guide to…" or as creative as "Learn What the Most Successful Home Sellers Know!"
So, what could possibly make someone, then, want to leave their email for you to send them more stuff? An offer! Think of it as an exchange of valuable information for their information.
An offer from you as a real estate agent can be any number of things:
Tips on how to prepare your home for sale
Up-to-date local statistics on homes for sale in the area
Guide on how to prepare your home in general for the upcoming season
A comprehensive guide on the real estate process with FAQs throughout
Your own directory of the top places, resources and deals attractive to homeowners
Collect advice from different experts in the different aspects of selling or buying a home
The best way to entice people to take advantage of your offer and to leave their email addresses is, again, to keep it short and sweet.
Bullet points are a great way to do this and will capture their attention in a short amount of time.
How to Build a Squeeze Page
It's super easy to build a squeeze page. The best way, if you have the means and time, is to build it yourself. You would simply build a page on your website and include a good graphic of your offer, the call to action and the email capture form.
You can also use a plugin available in most content management systems like WordPress or squeeze page generators that you can find online with easy creation and implementation instructions.
How to Test a Squeeze Page
It's important to determine just how effective your squeeze page is. One way is to do what is called A/B testing. You essentially have two different pages that have the information presented in a slightly different way.
You can also provide two different offers to see which captures the most email.
You can use analytics software such as Google Analytics to show you where people came from before arriving at your squeeze page and how often they took advantage of the offer.
You can also measure this via your email marketing software.