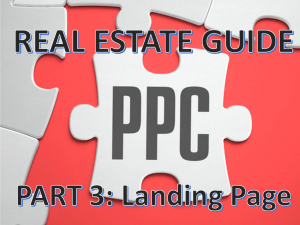 Now let's focus on your landing page. We've taken a look thus far at two areas of your Google AdWords PPC campaign: keywords and ad copy. Once you target whom you think you should with the right keywords and convinced them to click your ad with the right copy, are they converting successfully on your landing page? This is the final area of your ad campaign that is important to make sure works well for true AdWords campaign success.
Why Your Landing Page is Important
Your landing page is the destination that you assign to your AdWords ad. It should contain the compelling information a visitor expects, based on your ad copy, as well as that final call to action for capturing leads. Capturing leads can come in the form of calling your office, filling out a contact form or subscribing to your newsletter. Either way, it is the opportunity you have, once that visitor crosses over from Google to your website, to actually connect with them.
Create An Effective Landing Page
Your landing page should be three things: Informative, Relevant and Succinct. This is where you convince the person that you are the right real estate agent to meet their needs or have the expertise to help them through the home selling or buying process.
It's important to keep your landing page absolutely focused on what they expect based on your ad copy. If your ad mentions to viewers of your AdWords PPC ad that you have sold the most homes and can help homeowners like them successfully do it, too, then your page should be focused only on how you help people sell homes. It can include images of recent homes you've sold, a testimonial and a bullet list of the process you follow that has helped other home sellers see success.
Learn how to get seller leads with our home valuation landing pages
When using images, make sure you have the homeowner's permission if you are posting a photo of a house. Pictures really do say a thousand words, so using clear, beautiful shots will be more convincing than poorly shot photos that are fuzzy or askew. Since you are trying to make a connection with potential clients, include a nice, professionally done photo. You don't have to wear a suit if that's not your style, but make sure it's not cropped from a photo with you and a group of friends or from last year's pool party. This is not your personal Facebook profile photo, after all!
Edit, Edit, Edit
People only have so much time to read anything these days, so keep your landing page focused and succinct. You might start by including information you think is relevant; however, take a step back from it for a few hours or even a day and get your "editing pen" out. Read your landing page through the eyes of a potential client. Are you repeating words? Do your sentences make sense? Would you want to hire you to help sell or buy a home?
If it helps or you're having a hard time editing your landing page, then enlist the help of a friend, colleague or family member to help you re-organize your thoughts and make your landing page easier to understand.
You might not think that the format of your landing page matters, but, if someone were to just scan the information on it, then you'd want to help them out. Help them out by using headings and bullet points. Make sure images match the sections they are complementing.
Convert Those Leads!
Go back to the goal of your PPC campaign. Was it to capture leads? Have people subscribe to your newsletter? Give your office a call? Download something? These are the actions you'd like visitors to your website through your campaigns to take, otherwise known as conversions. Needless to say, your landing page should include that call to action so your ad was not in vain!
Make sure your call to action is clear and that the directive reiterates from your campaign why they should take action. If you are capturing leads, for example, and your ad mentioned that you can do a free consultation to discuss selling a home, then your directive on your landing page should begin with "Get your free consultation". Then include the form right below for them to complete their information.
A mistake that many real estate agents makes is to make their forms, phone number, email or download button difficult to spot or see. Make sure yours stands out and hyperlinked, if necessary, to make it easy to click and take action. Experiment with form and button sizes and use colors that complement the other colors on your site but stand out on the page. Place your call to action in the middle of the page in an area that flows from the rest of your copy and images so that it makes sense.
Different Pages for Different Ads
As we mentioned, your landing page should match the ad that took the visitor there in the first place. If you have different ads, take the time to customize each landing page for each ad.
You don't have to make pages a part of your navigation on your website, too. Many real estate agents will create a page on their website to serve as a landing page without making it apparent anywhere else on the website. This works fine if you plan to create multiple landing pages for your ads or would like to test two landing pages with the same information.
As you'll see in the next and final post, testing your landing page as well as your keywords and ad copy will help you figure out just how effective your PPC campaign is and to make adjustments as necessary.