Enjoy Better Conversions with Automated Lead Follow Ups!
Lead follow-up techniques seem to evolve so rapidly it can feel hard to keep up. However, even with these constant shifts, there are some things that remain no matter what industry you're in. If you're a pro at gaining leads, but you struggle with following up, you may be missing out on a large chunk of commissions.
Home Value Leads is a frontrunner in the lead capturing/nurturing field. We specialize in bridging these kinds of gaps in your business.
Real estate lead management systems are largely digital. Our software has only a very slight learning curve. You just have to set it up once, but it has the power to communicate with and nurture thousands of leads, without your intervention. As a result, the payoff of using lead management software in the real estate industry far outweighs the effort and minimal cost involved.
Let's delve into the importance of persistent follow-up practices, and also how to automate this with CRM lead management tools.
Learn how to get seller leads with our home valuation landing pages
Jump to:
What makes a good Lead Follow Up system?
Real estate lead management is the process of capturing, nurturing, and converting a lead into a final sale. This text delves mainly into the processes of lead follow-up as well as real estate lead nurturing.
There is no perfect lead follow up system per se, but you should always be experimenting and observing what yields the best results.
Speed and Timing
In any real estate client follow-up system speed is considered an important factor. If you use an automated lead follow-up system you'll never have to worry about forgetting to reply to anyone. The content of each email or SMS can also be different depending on how you captured the lead.
Using Home Value Leads to cater to your clients in ways that feel personalized will exceed their expectations. It's a way of putting you ahead of the competition, even just by 1%.
However, if you can, a simple phone call within minutes of gaining a lead can make your lead feel prioritized.
A lead management platform may also offer phone call and email tracking. Phone calls can be stored and reviewed at a later time to possibly find issues in the sales process.
There are also better times within the day to try and make connections. For example, Wednesday and Thursdays are stated as the best converting days while 4-6 pm is the best time.
Real estate lead follow-up services can actually send out pre-written emails or texts during these specific times.
Be Captivating
You've made a great first impression, which is why you've caught the lead in the first place. You need to maintain that same level of engagement with your real estate follow-up material.
The first few sentences need to be captivating enough for the lead to believe they can receive value from you. Get to the point quickly. You only have a few seconds to retain a reader's attention.
Here's a quick example for a first time home buyer:
Thank you so much for contacting me on [contact date/day]. I am so excited to be a part of this process.
You may feel really overwhelmed, but I'll be here to help at every turn. You probably have so many questions, all of which I'd be really happy to answer. Let's meet to discuss exactly what you're looking for in a first home. Are you available on [date] at [time]?
I look forward to your response.
Sincerely,
[Agent Name]
It is important for you to suggest a date and time for the follow-up meeting. This will reduce any decision-making that the lead has to do.
The real estate lead follow-up service allows you to use various email or SMS templates, which means you won't have to start from scratch. You could even reuse the template above for all of your first-time home buyers!
Use CRM Software
Customer relationship management software aims at giving your future clients a high-quality and seamless experience.
The best lead management CRM will allow you to track the success of your lead-generating campaigns, view market trends and facilitate daily admin tasks.
Using CRM's to manage leads can also help you categorize them into active or passive categories.
Home Value Leads offers unlimited categories to sort leads into. Pictured below are the most common lead statuses, but you can be as creative as you desire in this sorting process.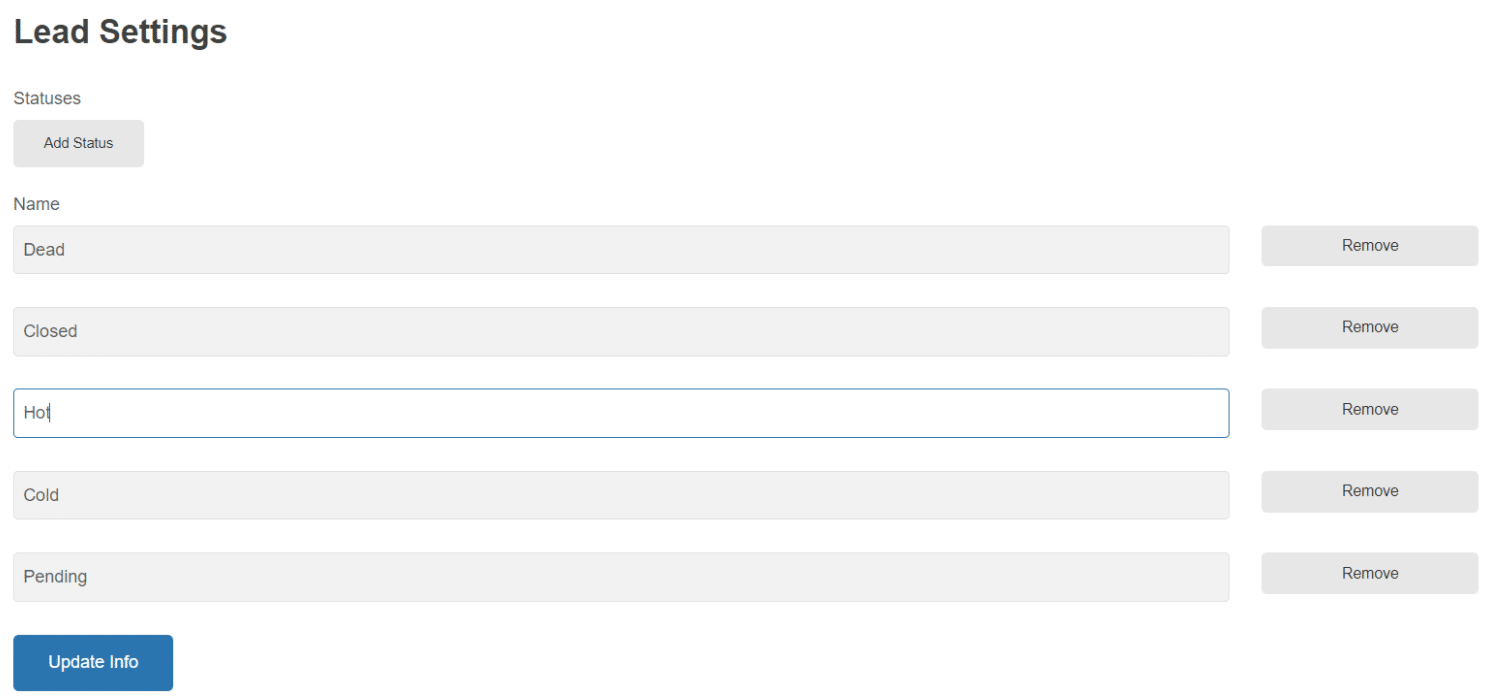 This will help you pay more attention to clients that urgently want to buy or sell a house while not neglecting those that only want to do so far into the future.
The best real estate CRM software in 2021 is one that has a unique feature that sets it apart. This is a feature that compiles many property-listing websites into one webpage allowing the lead to browse more effortlessly.
Lead CRM software offers a level of automation that frees up valuable time for tasks that can't be done by a program. Tasks that require your special experience, charm, and skills as a realtor. Some additional benefits of the automation process include:
Never neglecting a lead due to human error/forgetfulness
Segment leads and nurtures them according to their status
Maintain a log of all communication sent out to leads in a single place
Utilize email marketing and drip campaigns to sustain long-term clients and reinvigorate cold leads.
Utilize social media advertising to gain leads while you do literally anything else.
Create Valuable Content
Some content types that can gain and even nurture leads include blogs, Facebook pages (that also have adverts), social media profiles, brochures, informative videos, and email drip campaigns. A good real estate lead generation software can facilitate parts of this process.
Some have the option of email marketing and/or Facebook marketing strategies built-in.
This type of software can also monitor how customers interact with your content. The best lead tracking software uses a tracking pixel to see if a lead is opening/reading/re-reading your emails.
This is a great way to gauge if the client is active and interested in what you have to say.
Not convinced?</2>
If you are still not convinced of the benefits, there's no harm in experimenting before you make any commitments.
There is some free lead follow up systems that offer limited functionality until you purchase the full package. Home Value Leads offers you a free trial of our software.
Make full use of it and you'll see for yourself how much your lead count improves!
There is no limitation on the functionality and its easy-to-use, and the uncluttered interface can have you up and running in an hour or 2. If you have any questions regarding this type of service simply request a demo to find out more.