SMS That Grabs Your Leads Attention!
With the amount of time that leads spend on their phone, you can't afford to not use real estate text message marketing. The majority of consumers check a new text message within 5 minutes of receiving it and text messaging has exhibited 6x the engagement of email.
Jump to:
What is Text Marketing?
Text marketing for real estate agents specifically aims at gaining new leads, alerting leads to open houses, and notifying everyone of new or popular property listings. The texts can also facilitate direct conversation between the agent and the client.
Appointments and in-person meetings can be confirmed using real estate text messages. The majority of leads prefer to liaise via text message as it is faster, more convenient, and less formal.
How to Instantly Connect with Leads
The real estate text messaging software has an effortless user interface. You can send out scheduled text messages that form part of a lead nurturing campaign. Alternatively, you can send a one-off message to all of your leads, or to just one specific person.
Learn how to get seller leads with our home valuation landing pages
You are able to send up to 160 characters of text. Short texts go over better with leads as you have only a few seconds to retain their attention. An important feature is the automated data that you have at your disposal. This is the leads first name. This can be automatically updated on every text sent, making the message feel very personalized.

Image: Text set up for '1 Off message

Image: Text set up for campaign
You can set up several templates to automate the entire process. Make use of texting scripts for real estate businesses specifically, and save yourself and your employees a lot of time.
Why Leverage Text Marketing?
Although email marketing is still a necessity for any business, its success rate is declining. However, texts experience a 98% open rate. This rate is higher than any correspondence on any platform.
Real estate text messaging makes sense as a modern solution to a modern problem. The problem is this: it is very difficult to get a hold of your prospective clients. However, it's common knowledge that most people are on their phones a lot of the time. So they're likely to see your texts when they go through.
There is also less competition with real estate text message marketing. With only 5% of realtors communicating via text, you can gain a competitive edge with this method before it too becomes saturated.
Some Typical Templates
This section will outline a few real estate marketing SMS examples. The key is to be concise. Most users will only scan a text message. If your message is straightforward and personalized (with just a name), the lead will be more inclined to absorb your message.
Client real estate messages should still sound human and not like they are generated by bots. The results will be even better if it doesn't look automated. Prompt the lead by asking questions and maintaining a call to action in almost every text. Let's look at some typical real estate marketing SMS examples.
Welcoming a new subscriber
This type of message should be scheduled to send a minute after a lead has subscribed to your services.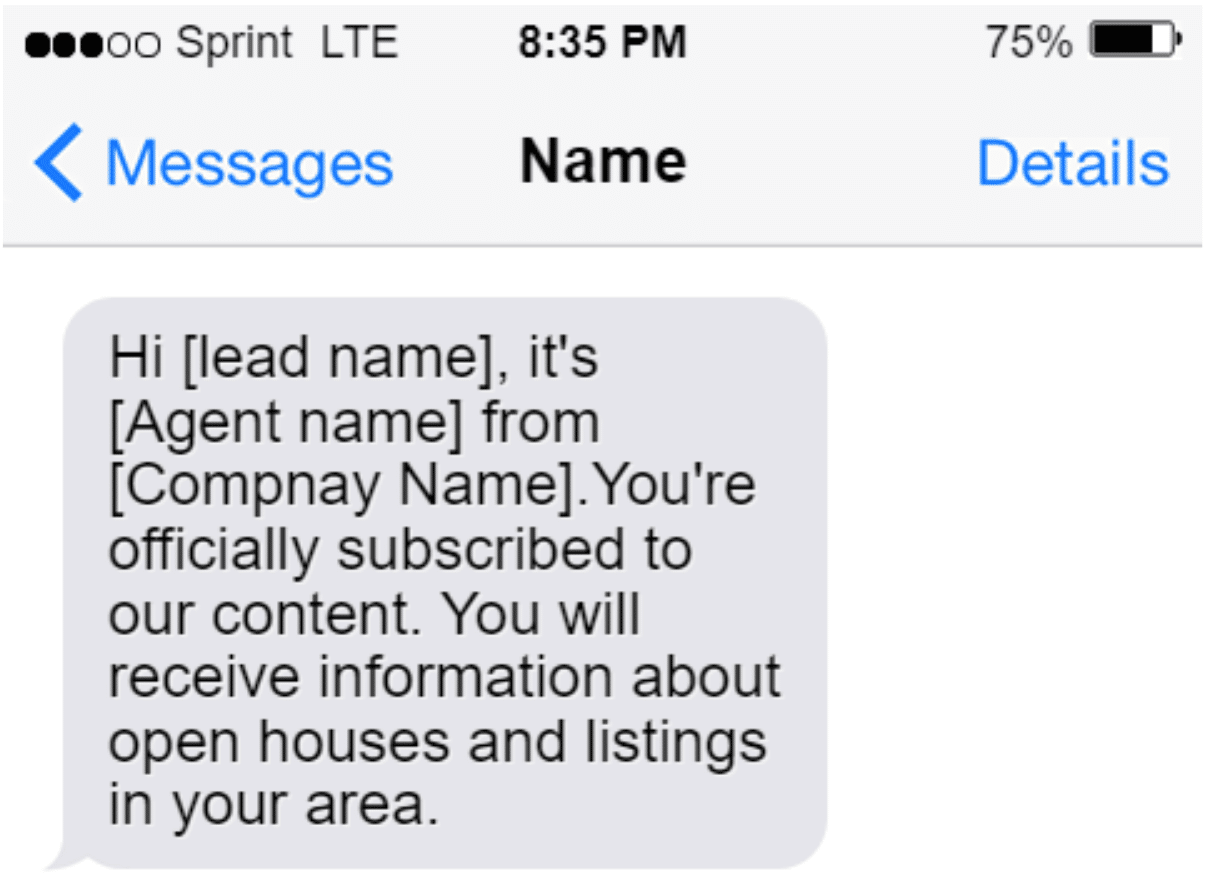 Prompting a Passive Lead
Some leads may need a gentle nudge. This message should not make the person feel pestered. Allow them to possibly explain why they may no longer be interested without feeling judged.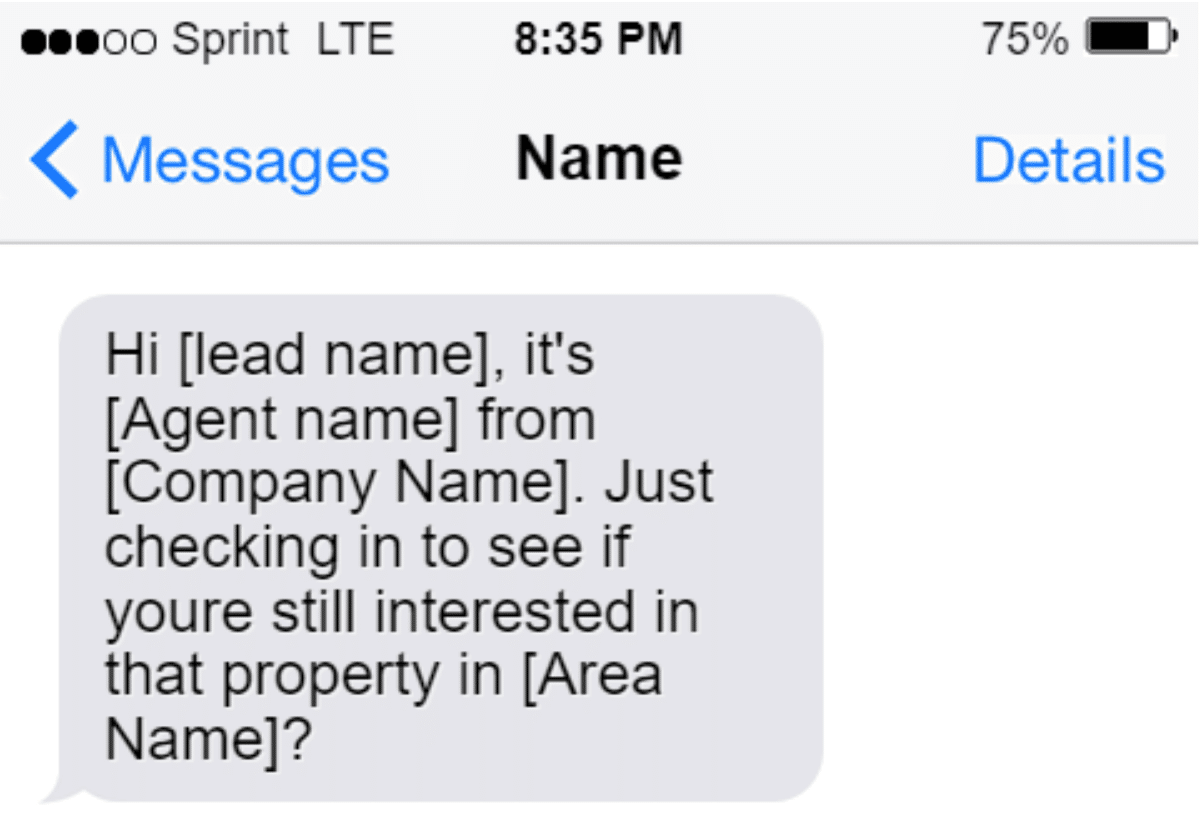 Asking for General Criteria
When asking for general criteria, always include a list of possible requirements from the lead. Don't expect the lead to do a lot of thinking, because this could prevent them from replying. Always make the process as easy for them as possible.
Real estate text message templates are often very easy to create and begin incorporating into your business. They have far less of a learning curve than any other tool and are easy to scale.
You can start with a few generic scripts and test their efficacy. After you've observed the excellent engagement real estate texts receive, you'll be glad you started earlier than most realtors out there. If you have any questions regarding this service simply request a demo to find out more.