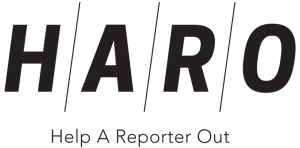 We talked at length in previous posts about how to gain publicity for your real estate business. Much of the opportunity revolves around your expertise as an agent. In this post, we are going to dig a little deeper into a little-known media resource called HARO or Help a Reporter Out.
Did you ever wonder how your fellow agents got a mention in a real estate-focused article? Or how you might see the same names over and over again in articles and magazines? You might think that these reporters are combing their files or cold-calling real estate agents to get quotes and advice. But more likely than not, the agents are coming to them through HARO.
What is HARO?
HARO is the brainchild of reporter Peter Shankman. The site actually started as a Facebook group he developed in 2008. Shankman then turned it into a more than 100,000 mailing list with hundreds of thousands more experts and reporters exchanging information on the site.
The website has come a long way in recent years, with a new look and an easy-to-navigate and easy-to-join platform. Everything is tracked, and correspondence can easily be made through the platform, eliminating email (though you can also email people separately).
How Does HARO Work?
Experts in specific areas, like real estate, join as a "source," while reporters put out "inquiries" for these experts to answer. The reporters have the choice of whether to accept the responses from real estate agents, for example. They can also reject them.
On the reporter side, they have specific requirements that they include to weed out any real estate agents that do not qualify. For example, if the question revolves around changes in the real estate industry, it would make sense for the reporter to ask for agents who have had five or more years of experience as a real estate agent.
On the source side (that's you!), you would follow the directions laid out by the reporter, being sure you answer every question in the timeframe given.
Make Your HARO Response Printable
I've personally worked with HARO resources, and it is easy to pick out the good ones from the unusable ones. So how can you be sure that your response will get printed?
Review the question and requirements carefully. The reporter has a specific reason for putting in certain requirements, so if you do not meet them, it not only makes your response null and void, it can be downright annoying. If you feel that you have something important to say despite your not meeting requirements, go ahead and let the reporter know, but do so sparingly.  A thorough review of the question(s) at hand is also important. Make sure you understand what the reporter is asking so that you stay on topic and provide the best information.
Answer every question thoughtfully. There is nothing worse on HARO than to receive a response that has little substance or does not adequately answer the questions. Don't be afraid to provide as much information as you can but keep to the topic. Include anecdotes where you can and offer to send examples of graphics if you have any to support your answers. Reporters are able to quickly sift through responses, so having more than enough is better than too little.
Answer in order. It's easy to skip a question if you don't answer them in order. Bullet-point or number your responses to make it easier for the reporter to determine which question you are answering. If you want to go the extra mile, you can also copy the question then include your response below each one. You would be surprised at how a little thought into organizing your response can make a difference in getting published!
Include a *brief* bio. One of the best ways to get noticed is to include some basic information. Some good ones to include as a sort of signature below your responses:

Name
Email
Phone
Website
Facebook
Brief description of the market you serve and your specialization. You can also include how long you have been an agent or when you started. Keep it to about three sentences max.
Extra Tips for HARO Success
Be sure to ask the reporter to link back your name to your website (for SEO).
Ask the reporter to share the final link or article with you so you can share on social media.
Ask to re-post the article on your website as a blog post (be sure to link back to the original article, note its origin and include the original author's name).
Check your emails daily and respond as often and as soon as possible so you don't miss out on any real estate inquiries.
Don't feel that you have to only answer real estate-related questions. HARO provides inquiries from reporters on a variety of topics, so you never know when you can answer from the perspective of a parent, business owner or local.