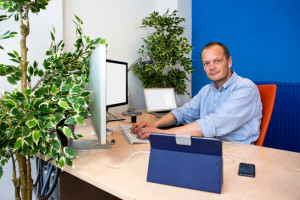 Much of that efficiency has to do with the precious time that probably neither an agent nor a client has in today's busy world. Especially during the transaction process where heavy negotiating starts to come into play, added Ciraj, where time is of the essence.
Add up the time it takes to print a contract, drive to meet the client, get gas, get the signatures you need, print a copy and then drive back to the office. Even a minimum of 20 minutes doing this day in and day out for multiple clients can eat up hours in your week that you could be generating leads or following up with ones you already have.
"Virtually sending documents for client signatures can sometimes be the only way to make the deal happen."
[Really] Be More Productive
A 2012 survey by IDC showed that just managing documents, or the inability to do it effectively and efficiently, accounted for 21.3 percent of productivity loss. Just think of how distracting and harrowing having to search for a paper doc, make sure you don't lose it, make sure it comes back to you if someone borrows it, etc. can be and multiply that pain across multiple documents and clients.
"The convenience and value of the tools mentioned have made a definite impact in our productivity and collaboration as a real estate team, and has ultimately made my desk have less clutter, which my assistant loves," said Central Florida broker Tania Matthew.
Clients Love a Paperless Agent
Some of you may read the heading above and say that you know plenty of people who still need paper in their hands for those all-important documents. But you may find that many more people are absolutely comfortable with going paperless, too. You just have to ask.
"[Going paperless is] convenient, fast and easy to understand for them, and they are very happy not having to drive to my office or print/scan papers anymore," explained Ciraj.
Carson Sweezy is a 23-year-old agent at a startup brokerage firm in Washington, DC.
"To be honest, as a young agent, I have never had to deal with the old ways of printing listings, brochures, and scanning in signed contracts," he admitted.
One thing's for sure, Sweezy's clients have made it easy for him to not even consider "old ways."
"My clients love not having to fuss with paper contracts and a stack of listing papers from a days tours," he explained. "As a millennial I am biased towards the paperless era, but it helps everything stay organized, professional, and in order!"
Final Words on Why to Become a Paperless Agent
Sometimes the first step in doing something very different in your business is to answer the question "why." We hope we've done that with these examples from stellar agents across North America.
When going paperless, you may have to spend some cash upfront or on a monthly basis for technology that will help you do so. Or you may have to spend some time training your team or even yourself to adopt new ways and to change their mindsets.
Think of this money, time and effort as a long-term investment, however, in your business. You'll be able to do more with the extra time and creativity you have now freed up to pursue more important, more lucrative activities like generating leads and following up. The small money you will save on paper is just the start.
If we've convinced that you should go paperless, then check out our tips on how to make it happen.