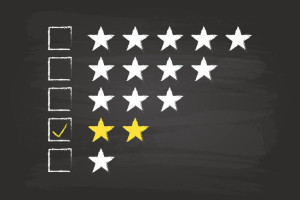 You work hard every day to make sure your client's real estate transactions go smoothly. You go the extra mile and out of your way (often!) to accommodate their needs – and you don't mind. Then – BAM! – you see a bad review. It might seem like an extra thing to worry about, but keeping up with reviews about you and your real estate business online should be an important part of your marketing plan. How so? Read on!
So, before we get into what to do when you see bad real estate reviews, let's break down the concept for a second. Where can you find such reviews for your real estate services online? Here's a quick list of places for you to check:
The list goes on, but a good way to search is by your name or business name frequently. One thing to mention, a review is not the same as a testimonial. A review is willingly left by the reviewer on a third party site while a testimonial is something you collect, make pretty and display on your own media or promotional channels. Brightlocal showed in a recent survey they conducted of consumers in the U.S. and Canada that 88 percent of consumers trust online recommendations. In real estate, of course, referrals trump online reviews, so keep those follow-up calls and referral streams going!
Now, it's easy to smile and share a great review you find about you, but what if the review is ugly, scathing and, worst of all, untrue? Here are a few tactics to keep your head and deal with bad reviews.
1. If you find that you have a bad review that is not true or you suspect it's someone playing evil tricks on you, contact the review site. Many of them have policies that prohibit their taking down reviews, but if you can somehow prove that the review was fake, they may consider it.
2. Respond to the reviewer if the review channel allows. Acknowledge their distress and explain (without "yelling", accusing or being just plain rude) that you apologize for whatever it is they claim you did or didn't do. If you had no idea this review was coming, acknowledge their distress and apologize for that…then find a way to help rectify the situation or explain where a "miscommunication" or "misunderstanding" could have happened.
3. Don't forget your happy clients! Besides including their testimonials on your own website, encourage them to leave their experiences with you on the review sites, especially the ones where the bad reviews lurk.
4. Take some preventative measures. Just because the deal is done doesn't mean you shouldn't put as much effort into your temp-checking at the end of your transaction as at the beginning or throughout. Make sure you probe for how the owners felt at every step. How they feel at the end. Was their anything you felt you could have done better or that they were confused on? A great setting for this conversation is an in-person, mini-celebration over coffee or someplace outside of their home and your office. The ground is neutral and at that point, everyone should feel comfortable enough to voice whatever it is they have to say. Doing all of this could help curb future bad reviews.
These are just a few ways you can take care of bad reviews. If you have ever had a negative review on sites like the ones above, how did you handle it?