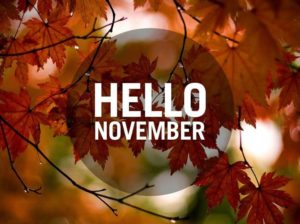 All Saints Day, Thanksgiving. Veteran's Day. November definitely has its share of holidays. It's the month that heralds us in to the "holiday season." And it brings a slew of other holidays that you may not have heard of!
The following are a few choice holidays that we found through the whimsical yet informative calendar site National Day Calendar. As a real estate agent, you can change up your content on your social media and in your newsletters by highlighting a few (or all) of these to connect with your clients. Check out what ideas we have to help you promote these holidays. 
National Stress Awareness Day takes place annually on the first Wednesday in November. This year it happens to be on November 1st. It was a Day created by Carole Spiers, Chair of International Stress Management Association to help people identify and relieve the stresses in their life.
Let's face it, not many things are more stressful that selling or buying a home. This is where you come in! In observance of the day, you can do a number of things. 
Provide a stress-free guide to preparing your home for sale.

Same thing for buying a home.
Listing the top five worries homeowners have and how you as an agent can reduce the stress.
Brand stress balls and mail them out to leads.
Mmmm…doughnuts (or donuts – both are correct!). While November 5 is National Doughnut Day, you may also be familiar with the other National Doughnut Day in June. Who doesn't love a good doughnut. Here's how you can celebrate.
Post on social media and in your newsletters with your top doughnut places in your farm.

Take a poll on social media for favorite flavors.
Have an open house and include doughnuts.
What an awesome day – World Kindness Day. In 1998, the World Kindness Movement started World Kindness Day, which is now observed in 28 countries. World Kindness Day encourages people to be kind to Ken another and to pass along that spirit with everyone they encounter. 
You can make it relevant to homeowners by providing a list of examples of how they can be kind to their neighbors. 
Hopefully, the millions of people who celebrate America Recycles Day practices good recycling habits daily. At least for one day every year on November 15, they can be aware of recycling and purchasing recycled products to maybe kick off the habit.
The National Recycling Coalition started this holiday in 1997 and is declared each year by Presidential Proclamation, encouraging Americans to commit to recycling.  
What can you do as an agent to help? Perhaps provide a calendar of recycling pickup days for your farm and post on social media and on your website (great content as part of your Community Pages). You can also make a commitment to go green in your real estate business and let people know how to inspire them to do the same.
Listening is key when it comes to real estate relations ships. However, National Day of Listening offers a unique idea around listening. Started by StoryCorps (you may have heard of this nonprofit via NPR) in 2008, the National Day of Listening encourages families to reach out and share their stories.
The day after Thanksgiving is a wonderful time to practice this. You can collect stories from your clients to share, especially if they have lived in a home they are selling for decades. They can talk about how much the neighborhood has changed and a memory or two in their home. Might be a great twist to market a listing (but use sparingly and with discretion!).