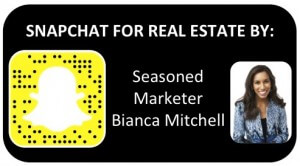 In our next post in our Snapchat series, we interviewed seasoned marketer Bianca Mitchell from Los Angeles. A Realtor®, who uses Snapchat personally, she has incorporated her real estate business onto the growing social media platform to connect with her audience and gain valuable leads.
Check out our other posts in the series to gain insight from a Millennial Realtor® and two Specialty Realtors®.
Have You Ever Used Snapchat?
"YES."
Has It Been Successful for You?
"YES. I got a buyer off of snapchat recently. Every Tuesday is #HomeTourTuesdays, and I show three of the most exciting new homes on the market on my Snapchat @BiancaSellsLA.
"I try to feature a different area each week and put an educational and informational spin on my Snapchat presentation by sharing some information about an area or fun facts about a home. A friend of a friend was watching and fell in love with a condo. He messaged me through the app, we went to check it out and that ended up sparking his search. He ended up choosing a very similar condo through his search and we closed a few months ago.
"I've since gotten another buyer and lease client through the app."
What do you post and how do you use it?
"YES. I got a buyer off of snapchat recently. Every Tuesday is#HomeTourTuesdays, and if I'm doing something interesting throughout the week. I also travel a lot so I try to feature real estate and towns throughout my travels."
How Often Do You Use It?
"Almost every day."
Did it take long for you to adapt to and how does it compare to other social media? 
"My background is in social media, PR and Marketing, and I'm also a bit younger than the average Realtor so it was a no-brainer for me to use it.
"When I first started, it wasn't catching on with Realtors yet, and people thought it was frivolous. Now, I think Realtors are starting to see the pros of such an on-the-go and reality-like experience where you can truly connect with your network on a deeper, personalized level.
"Being in LA helps my Snapchat popularity as well. Our unique market and my networking opportunities allows me to have access to homes, places and experiences that people only see in magazines and on TV. Snapchat allows my followers to have an insider's view of this. You can be silly or serious, and truly be yourself which I think is an important way to connect with clients, especially in my peer group.
"I post everything to my story, which expires within 24 hours, so it creates a sense of urgency for people to log in and see what I'm up to before it disappears.
"The couple of times I've skipped #HomeTourTuesdays, people have called or texted me to ask if I'm ok! That's when I realized how much of an impact it was making with keeping me top-of-mind with my network. While I'm also a big Instagrammer, It's just not the same one-on-one experience."
Key Takeaways from Bianca Mitchell:
Use a hashtag relevant to your real estate business like #HomeTourTuesdays.
Educate your audience with interesting Snaps that show facts about the area.
Snapchat helps you market incredible properties in high-profile markets like Los Angeles.
Be yourself when using Snapchat to connect with your audience more.