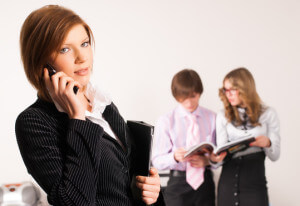 We are fully convinced that, if you need to
take your work base away from your local coffee shop or your kitchen table
, then coworking is a great option for you as a real estate agent. Coworking can help you stay focused, get you out of your pj's on those days when you are working at your computer and increase your opportunities for leads and referrals.
Coworking may or may not be for you, so we decided to explore the ups and downs of coworking. Two successful real estate agents from two completely different markets (Lexington and South Florida) share their experiences and insights to help you make the best decision for you!
Morgan Franklin, United Real Estate Lexington – Coworking Works
Morgan Franklin
is a Realtor from Lexington, Kentucky, who works primarily from his home office. His broker offers a coworking space at their office. While this may not sound exactly like a more general coworking space where people from various industries and fields work, this is a good example of how taking yourself out of your house can be beneficial.
Morgan works one day out of the week at the coworking space, for which he pays $100 per month. He likes it because it allows him to really focus, get work done and perform admin work much more efficiently. The coworking space has helped him to eliminate distractions when making lead generation calls. The space is well located, allowing him to quickly pop in between meetings to use its solid Internet connection.
His conversion, he finds, is much greater because of this. Also, when I am doing admin work I am much more efficient.
A typical week for Morgan looks like this:
Home – 25 hours
Broker – 4 hours
Coworking Space – 6 hours
Field – 25 hours
However, Morgan does say, "Home has its distractions, and going to my broker's office is [sometimes] social hour. As real estate agents we are all extroverts!"
Emily S. Tiernan, Keller Williams – Coworking Works But Not Always
Emily Tiernan
is a Realtor and Agent Success Coach with Keller Williams in the competitive South Florida area, specifically Plantation, Florida. Emily used to work from a coworking space. In the beginning, it was the best solution for her. She built relationships with people in her office, which benefited her clients. She knew who her go-to rental expert was or foreclosure expert was so when she had a question, she knew exactly whom to reach out to.
As with some processes and ideas in business, though, she slowly moved towards working from home. One of the downsides was her always feeling that her phone conversations were out in the open. Whenever someone was working next to her, she felt guilty making or taking calls.
Working from home, she says, eliminates this worry. An additional benefit is that she refrains from having to lug her laptop and miscellaneous papers back and forth from home to the office.
A few things we will say, however, is that many spaces are designed to help you take calls, for example. One space in Dallas, The Grove, in the historic West End of downtown, has special phone booths within the space that are comfortable and soundproof. What's more, many spaces offer access to conference and meeting rooms within which you can make calls, included with membership.
No matter what you decide, we recommend at least checking out a coworking space and feeling it out for yourself. Just as we advise to give something at least a few months before you say "nay," take some time to explore several spaces for at least three months. We'd love to hear from you! Has coworking helped your work-life balance and increased your business or not?