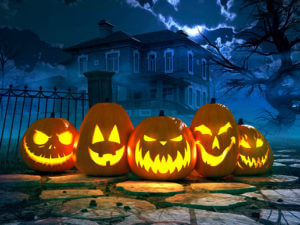 Last year, we talked about a few traditional ways you can reach out to leads and clients that mirror the oh-so-fun spirit of Halloween.  This year, we'd like to focus on effective content marketing in the form of good advice that has a Halloween twist.
Keep Listings from Looking Scary
The fright of Halloween lends itself perfectly to the idea of scary listing photos. In your next blog post or newsletter article, share with homeowners some easy ways to get their properties in tip-top shape. Some good advice you can list and discuss in more detail:
Fix cosmetic damage to both the interior and exterior of the house such as paint chipping, dirty windows, broken fixtures or cabinet hardware, drywall damage and soiled carpet.
Store away personal items or tchotchkes to keep the home from looking cluttered. This could easily distract potential buyers from the inherent beauty of the home or from its best features.
There's nothing like a fresh coat of paint in the latest neutral colors both inside and outside the home.
Ensure that the yard is mowed, weeds removed and, perhaps, outdoor patio areas power-washed after years of comfortable living.
Winterize Before the Chill Creeps In
Halloween is the perfect time to start reminding homeowners to winterize their homes. This good advice will change from city to city and may not even apply to your market, but in case it does, consider a great piece of content to include.
Create a handy checklist like the one below and customize it to your audience's needs.
Clean the gutters
Trim trees
Block air leaks
Check roof damage before
Clean and tune up furnace
Check and seal windows
Get your chimney inspected
Insulate pipes
Check hot water heater
Ensure proper and adequate insulation around the home
Navigate the Spooky Real Estate Market
For home buyers and sellers, the process of finding or selling a home can be overwhelming. Ease their fears by relaying some useful information about the local market.
This is a great opportunity to break down the real estate transaction process and maximize savings on both sides. It can also be super helpful in emphasizing why working with a real estate agent (like you!) can make the process much easier and more successful.
Prepare for a Boo-tiful Spring
Halloween is a fun time and a great opportunity to piggyback on a holiday as the real estate market slows down for winter. That's why it's the perfect time, too, to share your tips on how to prepare their homes for sale in the spring. Since potential sellers who will be ready for spring will be thinking about taking the plunge six to nine months out, Halloween is the time to start.
We did all the legwork for you! Check out our last post on how to get more spring listings and download our ebook to share with leads and clients.