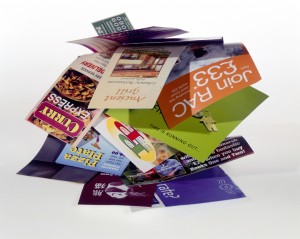 Traditional marketing should not be pushed to the sidelines to make room for digital marketing. In fact, as a real estate agent, you should focus on how to streamline it and make it better.
We've put together our list of posts this year dedicated to traditional marketing all here in one place. Which ones will you take to the next level in your marketing strategy?
Real Estate Postcards
Mail is not dead, contrary to what you may believe or have heard. If it's not working for you, then maybe it's time to do some testing of messaging, timing and design.
Some easy ways to ensure that yours stand out include:
Posting game schedules – Spring and baseball go hand in hand, so this is the sport of choice for which you can send out schedules. You can order these by just a simple Google search of "baseball schedule cards". You can use them at open houses, even swag bags and other events as well.
Tip List – Again, what better season than spring for a plethora of tip lists you can provide with your postcard? Lists can center around gardening; top hiking, running or cycling trails in the area; hot restaurants; and a spring prep guide. You can write a post and send people to the link for a full, detailed list.
Recipes – Winter may still be around in the next couple of months for most people while spring makes an early appearance in others. Select a recipe that signals the end or heralds in a season.
Business Cards
Real estate agents always have their business cards on them and usually send them out with mailers and documents, so make yours work for you every time. Make sure that you use both sides. The front can have your photo and all contact info while the back includes your social handles and other extra information that tells more about your business (perhaps your farm, a tag line and/or your specialty).
If you have a useful tool like Home Value Leads that people who first meet you could use, then include that on the back.
Besides handing them out at events or when you meet someone new, you can distribute your cards via your different business partners in the community, trading theirs for yours, for referrals
Door Knocking
Many agents shy away from knocking on doors, but it can still be an effective marketing tactic. If you think about how less and less agents are doing it these days, then you will really stand out!
How to get over the fear? Simply have a plan and tackle it bit by bit. Focus on a particular area and have a conversation. Your goal may vary, so your reason for calling on people should match. Just sold a house on their street? Then let them know and have documents available that include comps and be prepared to tell them a plan and how you can help.
Some people may not be open to standing in their doorway to talk with you – and that's okay! Their merely seeing your face and hearing about what you do and how you can help can work wonders for future business when they see your postcard in the mail, sign in a front yard or name in an event sponsorship program.
Cold Calling
Like door knocking, cold calling is not exactly a favorite of most agents. To get over the fright, set a goal of, say, two cold calls per day, then work your way up weekly. Be prepared to answer questions and to show off your expertise of the area. Train your team to know the script and not to read it verbatim. Sometimes a script can be a road block to a natural conversation that will yield real results.
Practice role playing calls with colleagues or someone you trust to help your conversations flow better.
Finally, make sure you consult a local "do not call" list so you are not calling on homeowners who don't want to receive such calls.
Newsletters
A good newsletter these days, according to email marketing software MailChimp, can still yield a 22 percent open rate. If you have hundreds of people on your email list, then that's a lot of prospective real estate leads coming your way!
As with other traditional marketing, a traditional newsletter, whether printed or emailed, should highlight your expertise about the local area and housing market. Your newsletter doesn't always have to be about the real estate market, too. You can focus on topics that include hot spots in the area, tips for the season or highlights about your team.