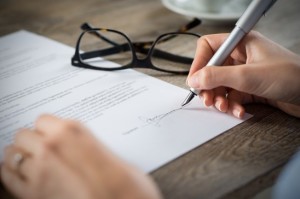 As of October 1st, a requirement for closing will be put in place with the new Disclosure and Loan Estimate Form, replacing the Good Faith Estimate, HUD-1 Settlement Statement and Truth in Lending Act Disclosure Form. The purpose of this new document shouldn't make too many waves in what you do as a real estate agent now but to make buyers have the final paperwork at least three days before closing. In preparation, many title companies have already put this document to use and is more a change for mortgage lenders. Just so you're aware, here is information regarding this latest development.
The Purpose of the New Form
The change will affect all parties involved in closing, including buyers, sellers, mortgage brokers, lenders, real estate agents/brokers, and title companies. The changes intend to streamline the closing process, educate the borrower on fees and reduce the paperwork required.
What's New
Among the areas highlighted by the document will be the purported interest rate, monthly payments and total closing costs. Additional details will focus on the costs of insurance, taxes, appraisals and pest inspections along with how payment and rate may change over time. This same document will also outline pre-payment penalties or increases in the the loan balance.
A review period of three days should be adequate time for the borrower to receive and look at the forms. So it's a good idea for these forms to be in everyone's hands six days prior to closing.
A revision of the form will need to be sent to all parties if an increase in the APR takes place that is 1/8 percent, a switch is made from a fixed to adjustable rate or a pre-payment penalty is added after the initial disclosure.
Why This Form is Better
The closing process can be overwhelming for any buyer, but this new document will alleviate some of that worry and make all closing transaction fees and details more transparent. As a seller or buyer's agent, this will make it a whole lot easier for you to answer questions, line by line, and ensure no stone is left unturned. Usually, this where a lot of headache can occur. Although closing may take a little longer, sometimes in excess of 15 days, it makes it easier on everyone and will reduce the possiblity of delay from the buyer, who is probably ready to move in. Expectations on the closing schedule given this new timeline will make closing less stressful, too.
What Could Happen and What to Do
As with any new development in an already complicated process, it will take some time for buyers who may have known or gotten wind of the old way, to adapt to this small change and act accordingly. They may have more questions, but with this document, they should be able to be answered clearly. Other things could take place not written into the document that will need to be included, such as damage by the seller upon move-out that the buyer will request payment for. However, this could also be written into the agreement with measures to apply should something like this occur.
As mentioned, closing may take longer but will be easier to plan for and expect. The actual meetings may take longer, but fully expect that at the presentation of this document, questions from the buyer will happen. Simply contact the lender to be on hand or one of their associates so that they can make the changes in the documents, email them back to you and have printing available at the meeting. If that is not possible, email the lender immediately with a deadline for re-submission to you and look out for it to send back to the buyer to make the review period in time.
Changes in the real estate industry such as this can prove to cause ripple effects that you may not like, but protecting the buyer in this case is important to maintaining the integrity in an industry already fraught with questions about its practice. Have patience, be in the know and you will be of true service to your client and their buyer.