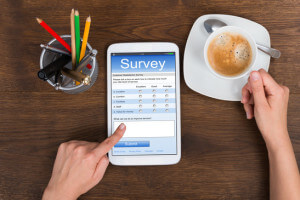 Whenever you read an article with stats or a survey, did you ever stop to notice who provided that information to the reporter? If you look closely, they are often not just the typical national poll takers like Gallup or Nielsen. They are business owners and experts in your fields, just like you, who took a little time to survey their clients and networks and glean valuable information to share.
Surveys are a great way to create something newsworthy for reporters to include in their articles on real estate or to even have as their main focus. It may seem like a daunting task, but with a little planning and some ingenuity, you, too, can create press releases that set you up as a real estate agent who knows what he or she is talking about.
Notable Survey Ideas
Some of the best survey data is information just waiting to be revealed right in front of you. What does that mean? Local information about timely topics in your real estate market. Raid the papers daily to see what topics are hot in real estate and see how you can gather answers specific to your market just from the clients you already have.
For example, you may be in a market with a high incidence of baby boomers selling their homes. You may be working or have worked with quite a few in the past year or two. Send out a survey to these specific clients with no more than 10 questions. You can also gather information from your own data without having to ask these questions, such as median home prices sold by baby boomers. Questions can include reasons for selling their homes, how long they lived in them and their plans for the future (answer choices for this can include downsize to a condo/smaller home, rent, travel and the like).
Another idea is to ask more open-ended questions for quotes that reporters can use. Great topics can include why home buyers you have worked with have moved to your city. Corroborate their answers with past articles you may have seen on how your city is one of the hottest in the country.
Perhaps a new company has moved into town, and you happen to work with a number of these new home buyers. You can ask simple questions like what these home buyers are looking for, impressions of the area you are focused on and amenities that most attracted them to the particular neighborhood.
How to Get Survey Answers
You don't have to spend a lot, if any, money to conduct a survey. SurveyMonkey is a great, free way to set up your survey, collect answers via a link and to view reporting as the surveys come in.
You can also do polls on Twitter and Facebook, if you have enough of a following.
One great way to set up a survey is to make sure you ask your questions during your listing presentation or as a follow-up after closing. This way, you can collect answers as they happen until you have enough to bring to a reporter.
Ensure anonymity with your survey takers by disclosing that their names and information will not be used.
Who to Share Survey Answers with and How
Now that you have a nice collection of survey answers, it's time to let reporters know what you have. Create a press release that has a compelling title and bullet points the information you have. It does not need to fill a page if it does not have to. To give it more heft, include a quote from yourself on your findings as well as one or two from your survey responders.
For local news that is citywide, find the reporter at your local paper who has the real estate beat or a TV/radio journalist who has spoken on your topic before. Some television and radio stations have business- or even real estate-focused shows that would love to share your findings. If you can't easily find the email or phone number of the person you are looking for, call the station and ask for the producer or reporter of the show. They are happy to give it to you if you have something they could feature.
For neighborhood specific news, you can reach out to neighborhood newsletters, weekly newspapers or bloggers.
Don't forget to share the articles or television and radio programs with you networks on social media, newsletters and website. The more people see your expertise in real estate locally, the more trust they will have in your services and your brand.