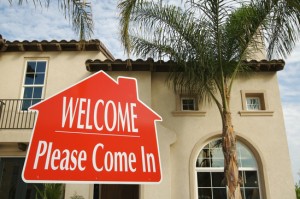 Now that the lazy days of summer are coming to a close, it's time to start thinking about fall. That means lots of listing appointments, showings – and open house after open house.
The best way to ensure that every open house you host goes swimmingly is to follow a step-by-step plan so no stone is left unturned. We've gathered our best tips to help you and your team put together your best open houses yet.
Create Your Open House Kit
Every open house, like any event, requires a lot of planning and details. One way to keep it all straight is to make sure that you have everything you need the day of the open house.
An open house kit can help you cover all of your bases. Here are the basics of what you sould have in your open house kit.
7 "Open House" A-frame signs (sandwich board)
Black dry erase marker (to write address) or large typed addresses &clear tape
Yard markers and sky flags
Balloons w/helium
Brochures & Stands
Clipboards w/ Guest Log sheets
Property flyers in stand
Tri-fold brochures in stand
Business cards in card holder

Title, Escrow, Insurance, Mold, Lead Paint Brochures

Preparing your home/Pre-listing brochures

Business card collection box
Prize drawing entry forms
Prize drawing flyer
Pens in a pencil holder
Prize for drawing (large gift basket or gift certificate)
Promo give-aways for each guest (such as a pen or notepad)
Maps of city or "Relocation Kits"
List of current comps in neighborhood
List of foreclosures or "bargain" houses
Purchase Offers (bring 2 paper forms, ready to complete)

Full set of Purchase Agreements with Riders for FHA, VA & Condos

Listing Agreement Paperwork (no other agents will have this nor will they freely share. We have picked up listings just by being open and offering to give them a copy at an open house)

Survey forms with clipboards

Thank You cards (to write if you have free time)
Scotch tape, duct tape, and/or masking tape
Scissors
Post-it notes
Stapler
Paperclips
Rubber bands
String
Door stops
Toilet paper (in case there is NONE)
409 or "green" cleaner, glass cleaner, toilet cleaner, comet soft scrub
Small squeezy mop
Small trash can (use it also as a bucket for the cleaning supplies)
Trash bags
Hand towel, paper towels, sponge, gloves
Whisk broom & dust pan set
Goo Gone & old rag
WD-40
Laptop or iPad (to write offers on the spot!)
Fold-up table, 2 chairs, tablecloths
Step stool that folds up
Name badge (your personalized name tag)
Digital camera (to take photos of property)
Tape measure (regular and/or laser)
Flashlight AND extra batteries
CD player w/ soft jazz music on CDs
Scented candles and matches (or lighter)
Odor eliminator spray (preferred) or aroma spray
Candelabra stand & candles for fireplace
Advertise Your Open House
As soon as you know you have an open house to host, publicize it on all of your channels. This includes your website, blog, newsletter and social media. In fact, having a running list of open houses that you host and continuously adding to it will give frequent visitors to your site, social channels or newsletters something fresh to look forward to every time.
A few ways that you can advertise your open house in unique ways;
Send out invitations for a special open house day for a particular property.
Hold multiple open houses in the same neighborhood and create a map that your audience can follow so they can see all the listings you have to show.
Partner with another agent if you would like to do multiple open houses together.
Hold an open house every day for one week.
Plan for Staging
Whether you plan to work with what your listing client already has in his or her home or plan to use a staging company, this is a part of the open house event that you definitely need to plan in advance.
If you plan to work with your listing client's existing furniture, then make sure you provide some candid advice. If they need to do some fall cleaning (or more), then let them know. If you pla on using a staging company, be sure you reserve them well in advance and shop around for the best fit.