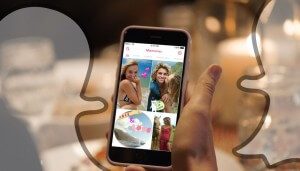 We recently learned from a National Association of Realtors® report on real estate in the digital age that 90 percent of homebuyers went online to search for a home. Seventy-two percent used a mobile or tablet website or app.
This information is compelling because it shows how online home searches have moved to the digital world. So real estate agents should make sure they are anywhere and everyone online where home buyers (and even home sellers) are.
Social media is, of course, one of the best ways to go digital for any real estate agent. Many agents are already on Facebook, for example, and more and more are moving to Instagram to capture the younger generations.
Want to go even younger? Have you ever thought of how you could use Snapchat? Some agents are still baffled about how to use it to promote their businesses to, say, millennials.
One group of real estate agents in New York City, however, seem to have figured out the magic formula. Through their Snaplistings account, they are able to do just that.
Snaplistings is basically a typical Snapchat account set up amongst a group of young agents. Most of the listings are inexpensive rental properties while others, more for entertainment value, are upwards of $6 million properties in the city.
The key to Snaplistings success is showing off properties every day in interesting ways that leave buyers wanting to see more – and likely take action on a rental or even sale.
How You Can Make the Most of Snapchat
Taking some cues from these innovative agents, here are a few ways that you can use Snapchat to increase your reach, leads and client base.
Take advantage of Snapchat Memories using both photo and video. Every day, highlight a new property, focusing on specific features.
Record yourself at a property giving a mini-tour. Some of the best times could be right before or after a showing or when you are stopping by to meet with, say, the inspector.
Take group selfies. Depending on how comfortable you are with the concept, take a selfie of you and that inspector, if he or she is willing.
Post your business card at the end so people know how to contact you.
Be open to direct messages so you can quickly meet with interested home buyers.
Use all that Snapchat has to offer and use their filters or create your own "snappy" ones that reflect your brand and personality.
Most importantly, have fun and really connect with your Snapchat audience!