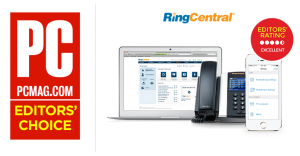 You can look like a big real estate brokerage by using technology to magnify your "office". If you have a home office, clients don't know!  They call your RingCentral phone number and hear your outgoing message, along with the list of agents and extensions. They can easily fax or send documents to your e-fax line. You can screen calls, if desired.
Most importantly, RingCentral can forward calls directly to your mobile phone without distributing your cell phone number to the public. That means you set your preferred hours when calls can be forwarded to you. During closed hours, calls go straight to voicemail. After each incoming call, you instantly get an email or text message informing you of the call or fax, and the number that it's coming from.
RingCentral allows you to secure a local number, or a toll-free number of your own.
What Can RingCentral Do For Your Business?
First, it's a virtual phone system. Just like in the "olden days" when we had a PBX switchboard on the receptionist's desk, RingCentral becomes your office front line. The best part is that nobody knows it's a cloud-based system! You customize it to your company's standards, including outgoing message, music on hold, and dial-by-name directory for your team members.
You can also screen incoming calls before choosing to answer the phone. You and your team partners can each be located anywhere around the globe and yet your client can contact you without knowing the forwarding phone number. They just make the same call they normally would and RingCentral handles the rest.
The incoming fax line (extra add-on service) receives faxes and documents and sends them directly to your email inbox. A copy of the document is also stored in your cloud-based RingCentral account, so anyone on your team can access it later.
If you install the desktop app, RingCentral can be used to call clients with VOIP phone lines. Try it out for visual voicemail and voicemail-to-email for a great use of today's high tech tools. And it's even available on mobile devices such as iOS and Android.
Collaborate with partners, coop agents, vendors and clients using the online meeting systems. That includes video meetings with up to 50 attendees, web conferencing with access to shared Box files, and audio conferencing from anywhere in the world.
RingCentral works hand-in-hand with Microsoft Outlook email software. Now integrated with CRM systems such as SalesForce, and ZenDesk customer support system. It includes apps for Google Chrome so you can use it to make outgoing phone calls.
Starting at only $14.99 per month, RingCentral offers a free 2-week trial. This cool tech tool can make you look like a million bucks when competing with the big guys. Go head-to-head fearlessly with features that show off your team! If you've used RingCentral currently or in the past, we'd love to hear about it! Please share your thoughts, opinions, pros, cons, and of course alternatives below in the comments.