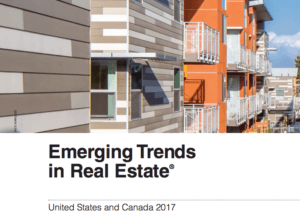 The Urban Land Institute (ULI) and PricewaterhouseCoopers (PWC) released their latest report "Emerging Trends in Real Estate® 2017". Their findings cover and analyzes upcoming trends for both US and Canada markets. Let's dig in, shall we?
The Top Ten US "Gateway" Markets
Looking ahead is never easy, but the UIL and PWC identified what they call "gateway" markets to see which ones will fare the best for both commercial and residential investors. They define a gateway market as one that has a diverse economy and "niche" neighborhoods.
Austin, Texas
Dallas/Fort Worth, Texas
Portland, Ore.
Seattle, Wash.
Los Angeles, Calif.
Nashville, Tenn.
Raleigh-Durham, N.C.
Orange County, Calif.
Charlotte, N.C.
San Francisco, Calif.
It's easy to see right off the bat why these ten markets meet both criteria and would be attractive to buyers. Austin at the top has long been enjoying growth with a mix of tech, life sciences and creative. Nashville, too, has a great mix of industries while maintaining its charm across different areas of town.
Markets on the Rise
These five markets are predicted to follow in the footsteps of the gateway markets. You've likely already been hearing about these markets in different circles. If you are an agent in one of these markets, then you probably already know what this report is talking about!
Columbus, Ohio
Richmond, Va.
Pittsburgh, Pa.
Charleston, S.C.
Salt Lake City, Utah
Trends to Look Out for
It's obvious that technology pervades trends in real estate. This year brought a lot of unique advancements, but it looks like 2017 is poised for some breakout ideas.
Augmented Reality
Though this technology has been around since 2012, it's only now starting to really take flight in the world of real estate. The ability to overlay images on an empty property, for example, can help potential buyers see what a property could look like with their own style or potential uses for different rooms. Think of it as an opportunity to provide a variety of "what if" scenarios to enhance a listing live.
The Internet of Things
You may have heard this term before. It refers to the prevalence of network connectivity of everything from our computers to smartphones to tablets, smart watches to our homes, which means that everyone has a way by multiple means to stay connected. As a real estate agent, it's good to stay apprised of what's to come and to find ways to improve your presence online so you're ready.
Blockchain Record Keeping
Ever heard of the blockchain concept? Neither had we, until this report. The technology acts as register of encrypted digital data. Once a record is entered, it's extremely difficult to alter it once the transaction has passed. With real estate being so heavy in documentation (much of which is now done virtually), the report thinks blockchain technology "could consolidate mortgage, escrow, or deed transfer record-keeping, and even allow for automated accommodation of contingent events in the terms of contracts."
The real estate industry is moving more quickly than usual with so many advancements in technology. So the next time you run across one of these concepts or terms, take a little time to familiarize yourself with the context and what's to come.